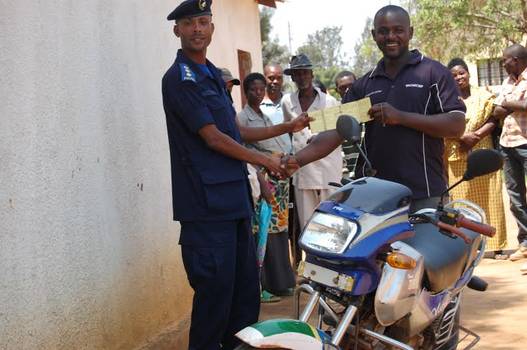 Police in Bugesera District, on March 11, handed over two motorcycles to their rightful owners after they were intercepted separately recently as they were being taken to Burundi.
One of the recovered motorcycle, registration number GPM 055 C that belongs to Rwesero health centre in Gicumbi District, was stolen in December last year.
It was intercepted in Rweru Sector from the suspected thieves.
The second motorcycle, TVS RD 346 M, which was stolen from Kinyinya Sector in Gasabo District was intercepted at Nemba border post from two suspected thieves identified as Alexis Habimana, 30, and Bernard Ntahonkiriye, 29, who were also arrested.
Supt. Ildephonse Rutagambwa, the District Police Commander of Bugesera, who handed over the motorcycles, thanked residents of Bugesera for their partnership and information sharing which led to the recovery of the motorcycles.
"Residents heard the suspects communicating with potential buyers across the border and called the Police, who swung into action immediately before they crossed," said Supt. Rutagambwa
He appealed to the public to always be fast to report whenever they lose property for immediate police response to recover the items and arrest suspects.
Comments
comments