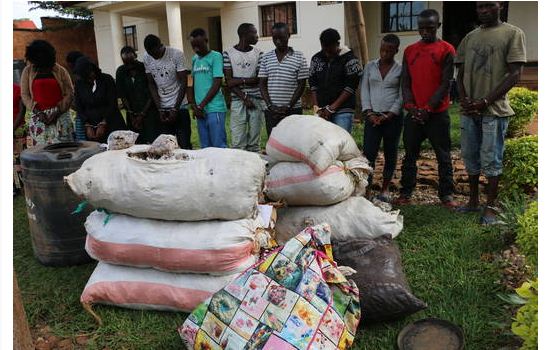 Eighteen suspected drug dealers including eight women arrested in separate police operations in Nyarugenge District, were yesterday paraded to the media as Rwanda National Police (RNP) continued to send a strong message and maintained its pace in breaking the chain of supply.
The suspects were arrested in the sectors of Gitega Nyarugenge and Rwezamenyo.
At least 300kgs of cannabis was recovered from the suspects.
They include wholesalers who owned a depot where at least six sacks were recovered.
Others include self-styled retailers on cannabis.
One of the suspects, Marie Ange Uwamahoro was arrested at the Central teaching hospital of Kigali (CHUK) where she was attempting to deliver about 120 pellets of cannabis to a prisoner, who had been taken there for treatment.
Uwamahoro had covered the pellets in polythene bags and concealed them in five-litre jerrycan, which was full of milk.
Two other sisters, aged 17 and 18, were arrested in Rwezamenyo with over 4000 pellets concealer in a water tank, which they had buried under their bed, where they had dug a hole.
Rwanda National Police (RNP) spokesperson, Assistant Commissioner of Police (ACP) Theos Badege said that efforts against narcotic drugs continue to gain momentum, a reason as to why more drug dealers continue to be arrested and substances seized.
"It's said that one kilogramme of cannabis has 100 pellets, which are smoked by about 200 people. Those are 200 people poisoned just by one kilogramme. We call for strong efforts by Rwandans to break chains of supply and reverse the problem from the roots," ACP Badege said.
"The campaign and operations against drug abuse are mainly geared towards breaking the chain of supply. The best part in this fight is that the public have owned it and they are the main source of information on suppliers in their communities, which is a big step forward."
According to Police, although drug related crimes are on decline, partly due to vigorous community policing measures adopted, there's increased involvement of women compared to the past.
On several occasion, women have been arrested transporting cannabis in pumpkins carrying them at the back guising as babies and concealing them in veils.
According to the Permanent Secretary in the Ministry of Gender and Family Promotion, Nadine Umutoni Gatsinzi, women are custodians of values, which they should strive for.
"First, dealing in narcotic drugs is criminal. It's a crime that causes insecurity to societies, destroys families and affect behaviors of children," the PS said.
"But as women, we are also the heart of the family and the country in general, and we play a vital role in passing good values and proper upbringing of children. A woman should stand for such values, maintain their dignity, and join police efforts in fighting the dealers to save our children and the future leaders," she said.
Comments
comments