Palace Attack Deaths Underreported; at Least 15 Children Still Missing
 Killings by Ugandan military and police during joint operations in Kasese, western Uganda on November 26-27, 2016, warrant an independent, impartial fact-finding mission with international expertise, Human Rights Watch said today. On the bloodiest day, scores of people, including children, were killed during a military assault on the palace compound of the region's cultural institution.
Police spokespeople reported the death toll over the two days as 87, including 16 police. Human Rights Watch found the actual number to be much higher – at least 55 people, including at least 14 police, killed on November 26, and more than 100, including at least 15 children, during the attack on the palace compound on November 27.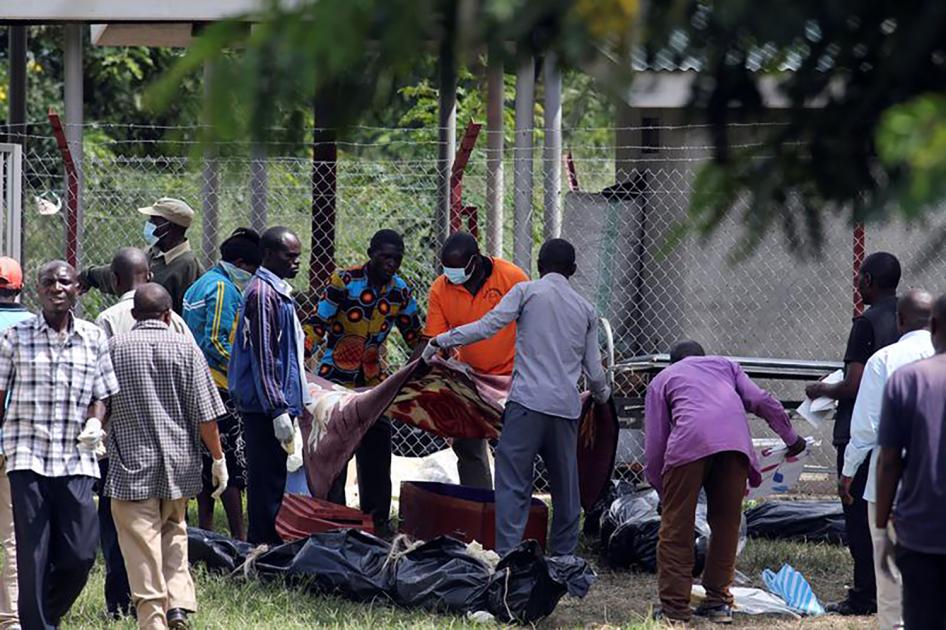 The government has arrested and charged more than 180 people, including the cultural institution's king, known as the Omusinga, with murder, treason, and terrorism, among other charges. None of the 180 are members of the police or military and no one has been charged for the killing of the civilians, including children.
"The assault on the palace in Kasese, which killed more people than any single event since the height of the war in Northern Uganda over a decade ago, should not be swept under the carpet," said Maria Burnett, associate Africa director at Human Rights Watch. "People in Kasese are still looking for their family members, including children, and they deserve answers and justice for these gruesome killings."
In a telephone interview on February 24, 2017, Uganda's military spokesman, Brig. Richard Karemire, told Human Rights Watch that there has been no investigation into the military's conduct and that none is planned. The government is under an obligation to investigate any operation where there is such loss of life and should do so promptly. But given limited prospects for a credible follow up by domestic authorities, an independent, impartial investigation, with international expertise, should be urgently conducted, Human Rights Watch said.
Human Rights Watch interviewed more than 95 people in six subcounties of the Kasese district, including many families of the people killed, and reviewed video and photographs of the events. Many people voiced significant fears of reprisals given the presence of security forces in the area.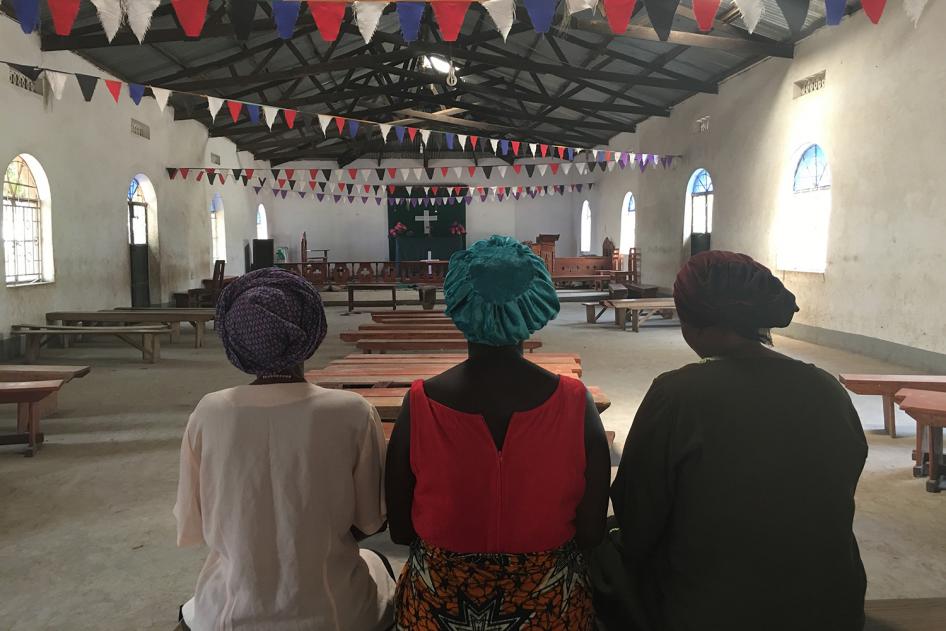 The violence began on the morning of November 26 in Kasese, where there has been longstanding tension between a local cultural kingdom and the central government. Soldiers, under the command of then-Brig.Peter Elwelu, forced their way into the kingdom's administration offices in Kasese town. The soldiers killed eight members of the volunteer royal guards, who traditionally safeguard cultural sites. Many often carry agricultural tools, such as machetes, but are not formally armed by the kingdom or the government, and would not constitute an armed force or group under international humanitarian law.
Witnesses said that the killings prompted widespread concern among those loyal to the king, and word spread quickly to outlying subcounties that the kingdom was under attack. That afternoon, civilians, including some royal guards, attacked six small police posts far outside town with machetes. In the ensuing violence, at least 14 police constables and one crime preventer were hacked to death and security forces shot 32 civilians. Most of the alleged attackers were killed in the clashes.
The killings of police are a tragedy and families should continue to receive compensation, Human Rights Watch said.
By the evening of November 26, soldiers and police had surrounded the king's compound in Kasese. On any given day, the palace could have hundreds of people inside, royal guards as well as women, children, and young people, cooking meals, learning vocational skills, and tending to the kingdom's animals, among other tasks. Several people told Human Rights Watch that they received calls from family members inside the compound saying that the military would not let them leave.
The palace remained surrounded the next day. Witnesses said they saw then-Brigadier Elwelu and the police operations director, Asuman Mugenyi, in command over security forces, at Kasese police headquarters and the palace compound. Several politicians entered the palace that morning to negotiate. Eventually, the police took the king into custody and left with him.
At about 1 p.m., the security forces attacked the compound, using what witnesses described as an anti-riot vehicle to storm the gate, and shooting guns and then later rocket-propelled grenades. Many people said they heard loud explosions, and saw thatch roofs on the perimeter and inside the compound catch fire and be burned to the ground.
"About 20 armed men took up positions and started fire everywhere," one survivor said. "Anyone who survived pled for their lives."
In video footage reviewed by Human Rights Watch, two soldiers are seen beating shirtless male detainees who are lying on the ground with their hands tied behind their backs after running out of the burning palace compound.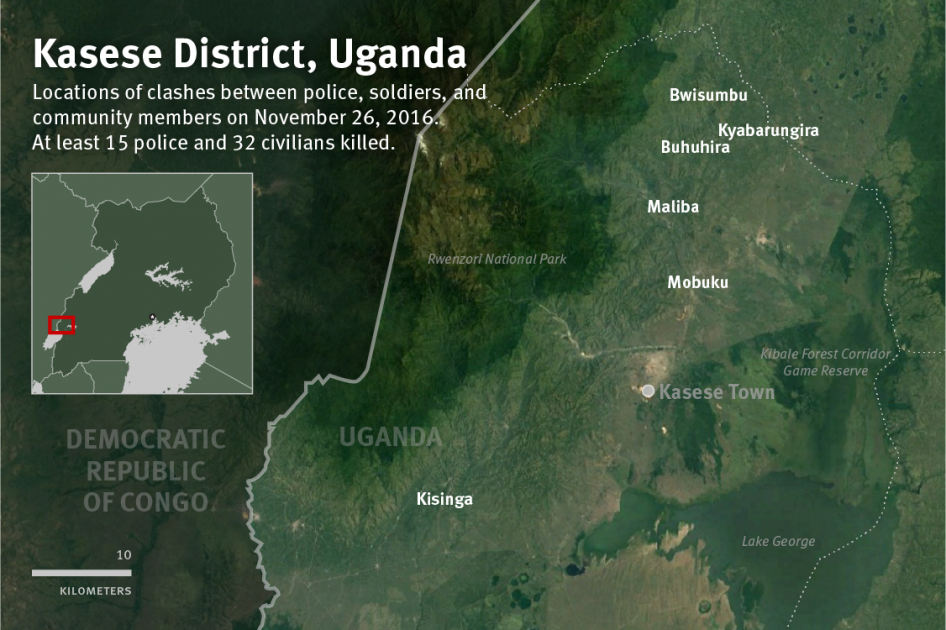 The army has disparaged accounts that security forces used unnecessary lethal force over the two days, contending that those killed were armed fighters. But without independent investigations, its version of events raises more questions than answers, particularly regarding the actual death toll and why there was no effort to remove unarmed people and children from the compound.
Many families said they are still looking for the victims' bodies but are afraid to ask questions about the attack or where the bodies are. "We buried [our brother] quickly, but because of all the threats, we still don't know where his child's body is," one man said. "He was just 5 years old." Human Rights Watch spoke to 14 families missing 15 children between ages 3 and 14 who were last seen in the palace compound on November 27.
Human Rights Watch found evidence, including accounts by confidential sources and medical personnel who witnessed the events, that security officials had misrepresented the number of people killed and eliminated evidence of the children's deaths.
Human Rights Watch spoke to several army officers who expressed significant discomfort with the events in Kasese but were unsurprised by the absence of investigations into the military's conduct. They said they did not believe that any local entity would have the space or independence to conduct a meaningful investigation without obstructions from the government and fear of reprisals. "It was a horrible event, but who in this country can investigate?" said one high-ranking military official. "It is far above us all. How do you wake up and start investigating so far above you?"
In the media, Elwelu, now a major general, has actively defended his decision to attack the palace, contending that the people inside were all armed fighters, including Congolese fighters, and saying that he now sleeps well at night. He has been promoted to chief of land forces, one of the highest-ranking positions in the army.
Ensuring independent investigations into the conduct of security forces would not absolve civilians who committed crimes from facing justice, but would ensure security forces are also held responsible for their conduct and demonstrate a fundamental commitment to rule of law, Human Rights Watch said.
The United Nations Basic Principles on the Use of Force and Firearms by Law Enforcement Officials require law enforcement officials, including military units, to apply nonviolent means before resorting to force, to use force only in proportion to the seriousness of the offense, and to use lethal force only when strictly unavoidable to protect life. The principles also provide that governments shall ensure that arbitrary or abusive use of force and firearms by law enforcement officials is punished as a criminal offense under their law.
The Ugandan government should immediately suspend the commanding army and police officials believed to be most responsible for the killings and other abuses committed during the November violence, Human Rights Watch said. The government should promptly investigate, prosecute, and punish those responsible in accordance with international standards. The government should protect witnesses and compensate the families of victims.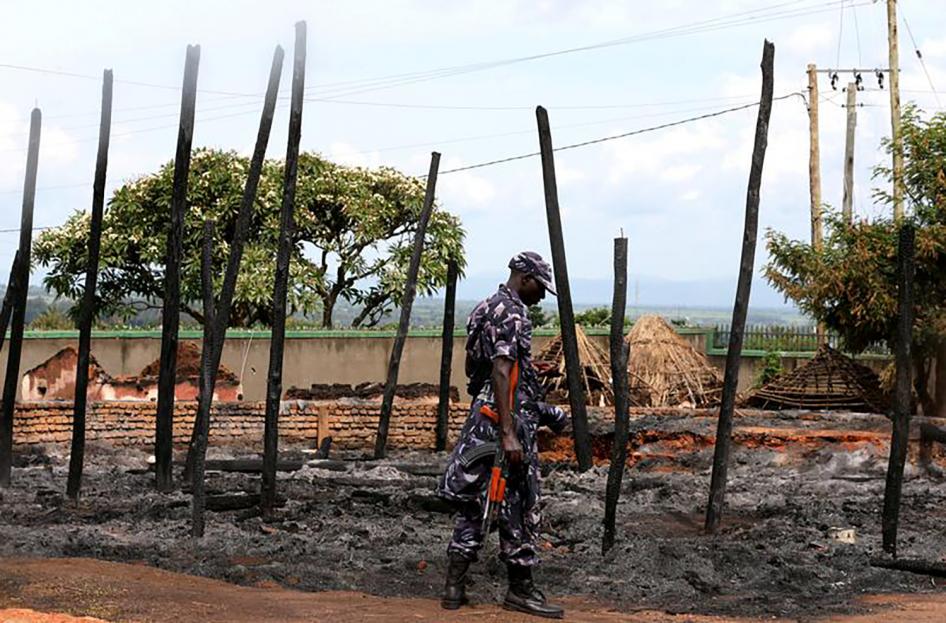 Given Major General Elwelu's command responsibility for the palace attack, he should be removed from command pending a full investigation, and should not participate in any internationally-supported training, conferences or joint exercises until investigations conclude. The government should acknowledge a more accurate death toll and facilitate the exhumation, identification, and return to family members of all the bodies disposed of by police and military in any location, guaranteeing the families' safety.
Uganda has a primary obligation to investigate and prosecute the perpetrators of these killings, but thus far has shown no willingness to do so. Given the scale of the abuses and killings including children, as well as Uganda's failure to commit to investigations, there should be an independent, impartial investigation with international expertise into the human rights violations associated with the November violence in Kasese, and any findings should be made public, Human Rights Watch said.
The African Commission on Human and Peoples' Rights and the African Committee of Experts on the Rights and Welfare of the Child should also undertake a joint investigative mission to Uganda and support a broader independent and impartial investigation.
Uganda's international partners should maintain a strong demand for accountability, including support for an independent and impartial investigation with international experts. If given unfettered access to witnesses and forensic evidence, independent experts with a fact-finding mission could determine if the massacre on November 27 should be characterized as a crime against humanity.
"The horrific events of November in Kasese warrant international scrutiny in an independent, impartial investigation that can determine all the crimes that took place, including potential crimes against humanity," Burnett said. "The victims' families deserve answers about why the military and police killed the people in the palace, including young children."
This is a summary of findings as presented by Human Rights Watch