President Yoweri Museveni has sounded a strong warning against what he termed useless politicking which he said makes it impossible for some investors to bring their operations to Uganda.
"Please resist these people who fight investment because they only hurt chances of self improvement," he said.
The President was this afternoon officiating at the opening of Riham Foods and Beverages factory in Kawempe Division in Kampala. The factory operates under the Harris International Group.
Citing the four pillars of Uganda's economy – Agriculture, the Services Sector, Information Communication Technology (ICT) and Industries – the President commended the important role that factories like Riham Foods and Beverages, play in the development of Uganda.
"The US$55 million being paid in tax by this company majorly housed on a mere 6 acres is one eighth of the total revenue from coffee across the country," he observed.
The President pledged that government will find suitable land for the fresh juice extraction plant for the investor and encouraged more small and medium enterprises (SMEs) to take advantage of the reduced industrial power tariffs as well as the physical infrastructure development.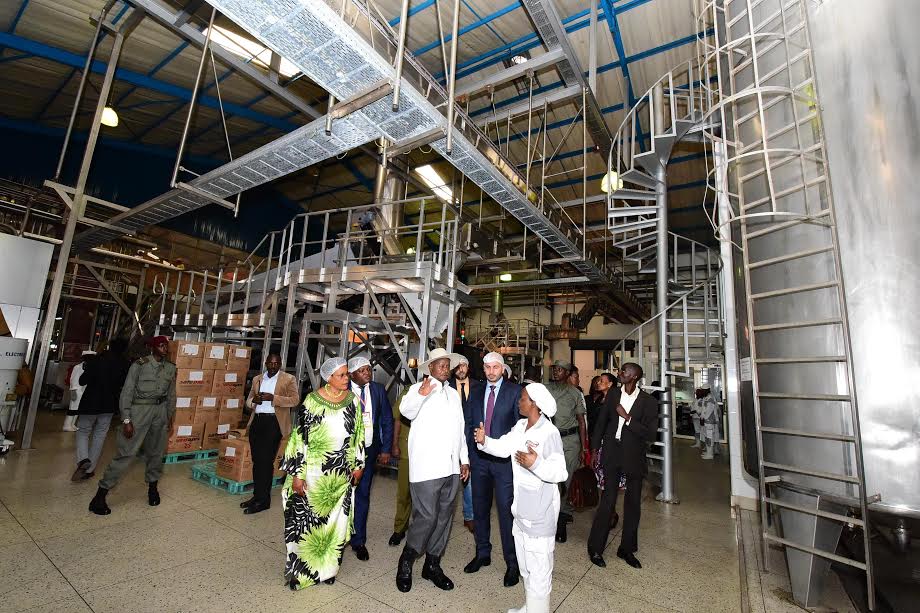 The Minister of Trade, Industry and Co-operatives, Hon. Amelia Kyambadde commended the proprietors of Riham Foods and Beverages Ltd for engaging Ugandans in the company's distribution chain adding that "this is a key requirement for any foreign investor in Uganda."
Quoting the company's tax remittances as being at Shs.75 billion annually, the Chairman of the company, Hajj Yasser Ahmed, thanked the NRM Government for a conducive investment environment in Uganda. He pledged continued support to the government efforts to improve collections in taxes. He also disclosed that the company's resolve to effect its 2020 expansion plan to put up a fresh juice processing plant with an output capacity of 120 tonnes per day.
The factory, which produces carbonated drinks, water and biscuits, started its operations in 2005. Currently, it employs over 2,000 Ugandans in its operations across the country.