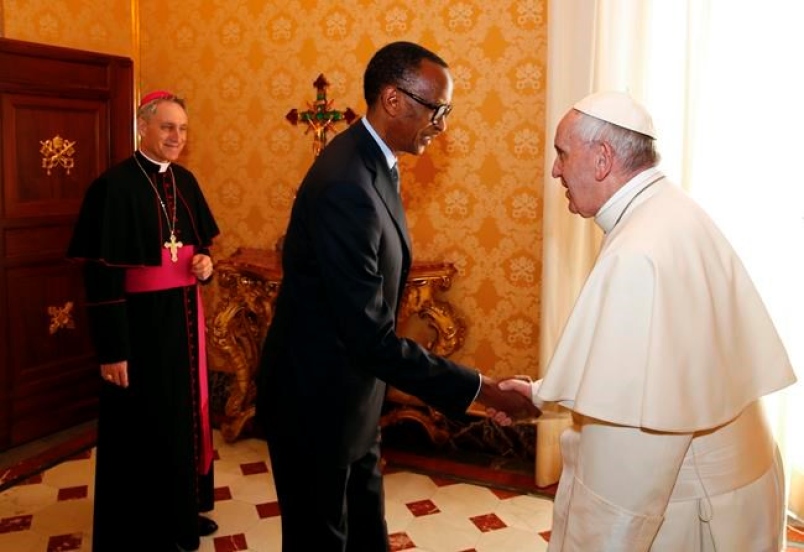 Pope Francis begged forgiveness Monday for the "sins and failings of the church and its members" during Rwanda's 1994 genocide and told Rwanda's president that he hoped his apology would help the country heal.
In an extraordinary statement after Francis' meeting with Rwandan President Paul Kagame, the Vatican acknowledged that some Catholic priests and nuns "succumbed to hatred and violence, betraying their own evangelical mission" by participating in the genocide.
During the 100-day genocide, over 800,000 ethnic Tutsis and moderate Hutus were killed by Hutu extremists.
Many of the victims died at the hands of priests, clergymen and nuns, according to some accounts by survivors, and the Rwandan government says many died in the churches where they had sought refuge.
The Vatican said Francis "expressed the desire that this humble recognition of the failings of that period, which unfortunately disfigured the face of the church, may contribute to a 'purification of memory' and may promote, in hope and renewed trust, a future of peace."
The Vatican's statement followed an official apology last year by Rwanda's Catholic bishops for "all the wrongs the church committed."
In the years since, the local Catholic Church had resisted efforts by the government and survivors' groups to acknowledge the church's complicity in mass murder, saying those church officials who committed crimes acted individually.
The Vatican said Francis conveyed the sadness of the Holy See and the church at large for the genocide and expressed solidarity with the victims.
"Evoking the gesture of Pope St. John Paul II during the Great Jubilee of the Year 2000, he implored anew God's forgiveness for the sins and failings of the Church and its members," the Vatican said.
AP
Comments
comments