Uganda Police has Tuesday evening released a composite image of the third suspect wanted in connection to the brutal murder of Assistant Inspector General of Police, Andrew Felix Kaweesi.
The development comes after reports by the Inspector General of Police, Kale Kayihura that they had apprehended one of the suspects as he attempted to flee to Congo.
Kaweesi was shot and killed on Friday morning as he left his home in Kulambiro. His body guard Kenneth Erau and driver Godfrey Wambewa were also killed in the attack.
A joint operation between the Chieftaincy of Military Intelligence (CMI) and Uganda Police is currently putting facts together in order to capture and bring to book, the perpetrators of the gruesome shooting that has left the country very cold.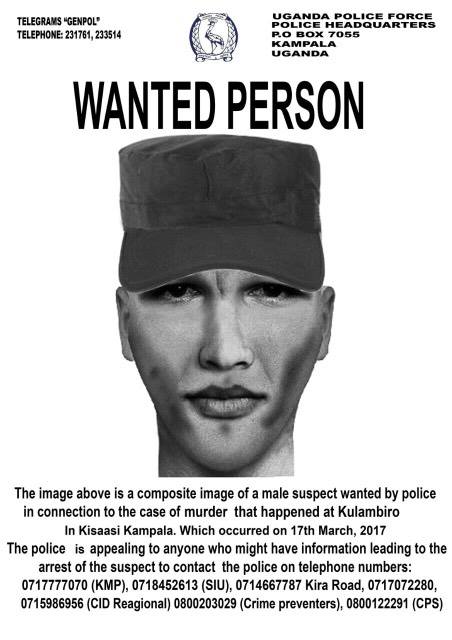 The Tower Post understands that American special investigators from the Federal Bureau of Investigations (FBI) have also joined the hunt.
Police says the image is of a male suspect "wanted in connection to the case of murder that happened at Kulambiro in Kisaasi, Kampala."
A facial composite is a graphical representation of an eyewitness's memory of a face, as recorded by a composite artist.