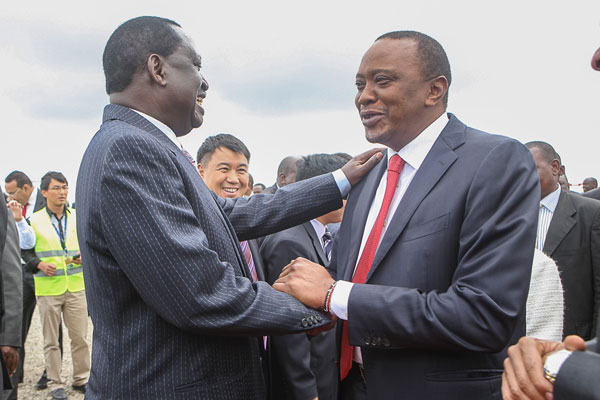 Kenyan President Uhuru Kenyatta has claimed that opposition kingpin Raila Odinga was responsible for the 2007-08 post-election violence that claimed 1,133 lives and displaced over 650,000.
Kenyatta who is seeking re-election is currently on his tour of the Gusii region, one of those affected by the violence.
The president, son to the country's founding president Jomo Kenyatta, told the Abagusii (people of Gusii region) Wednesday that there would never have been any violence had Orange Democratic Movement (ODM) leader Raila Odinga conceded defeat.
Kenyatta told a meeting of leaders that gathered at Nyanturago Stadium in Kisii County: "Raila was at the centre of the 2007 chaos in which Kenyans fought but he blamed it on [deputy president William] Ruto."
"Yeye ndio aliwasha moto [He [Odinga] is the one who ignited the flames]."
But Odinga has previously refuted claims that he incited his supporters to attack each other in protest of alleged rigging of his party's (ODM) victory by former president Mwai Kibaki's Party of National Unity.
He has equally denied any involvement in the trial at the International Criminal Court (ICC) of both Kenyatta and Ruto, but blamed the duo's trial on failure to set up a fair tribunal at home.
The ICC had indicted Kenyatta, Ruto, radio presenter Joshua Sang, head of Public Service Francis Muthaura, former Industrialisation minister Henry Kosgey, and former Police Commissioner Hussein Ali. All these were acquitted due to lack of implicating evidence.
Kenya will go to the polls in August and Kenyatta is likely to face Odinga on the ballot, again.
REPORT/ANNAH WAMBUI
Comments
comments