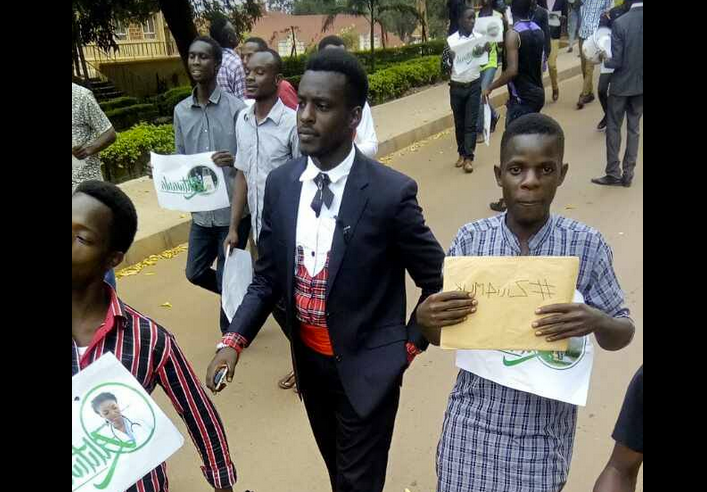 Abdul Kareem Zilitwawula, a guild presidential aspirant at Makerere has threatened to sue the university after the institution's electoral commission failed to dully verify him for the race.
Zilitwawula and several other candidates from the school of social sciences that is under the College of Humanities and Social Sciences (Chuss) have their names put under the "Pending cases" list because their examination results couldn't be verified since the system is currently disabled to allow investigations into marks alteration scandals.
However, in his Thursday letter to the university Electoral Commission Chairman, Isaac Otuuku, the second year student announced that he will take a legal action if the issue isn't resolved immediately.
"It is very unfortunate and highly regrettable that after ninety years of existence Makerere University has management systems that are not on normal progress," reads Zilitwawula's letter in part.
"This is therefore to inform you that should I be denied an opportunity or be put at a disadvantage from full participation in whichever way, court action will be sought which may include suspension of the entire electoral process until natural justice is served."
By press time, Otuuku could not be reached for a comment because his known contact was off.
The self-proclaimed revolutionary son, Simon Wanyera, who has been thrown out of the race due to lack of substantive requirements, has taken to social media especially WhatsApp and Facebook, asking his supporters to be ready to rally behind him in case he calls upon them.
He says he can't allow to be stopped from participating in the race yet he 'fulfilled' all the requirements.
DULLY NOMINATED CANDIDATES
Lulican Agadi Twonyeirwe
Kenneth Isabirye
Emmanuel Luwukya Kizito
Doreen Alituha Mpabaisi
Ruth Nsubua Nampande
Andrew Ssentale
PENDING CASES
Stephen Bukomeko
James Kazungu
Henry Kihika
Mercy Faith Lakisa
Abdul Kareem Zilitwawula
WITHOUT SUBSTANTIVE REQUIREMENTS
Bonny Eyen
William Karamagi
Isaac Innocent Ongom
Timothy Sambwa
Simon Wanyera
Comments
comments