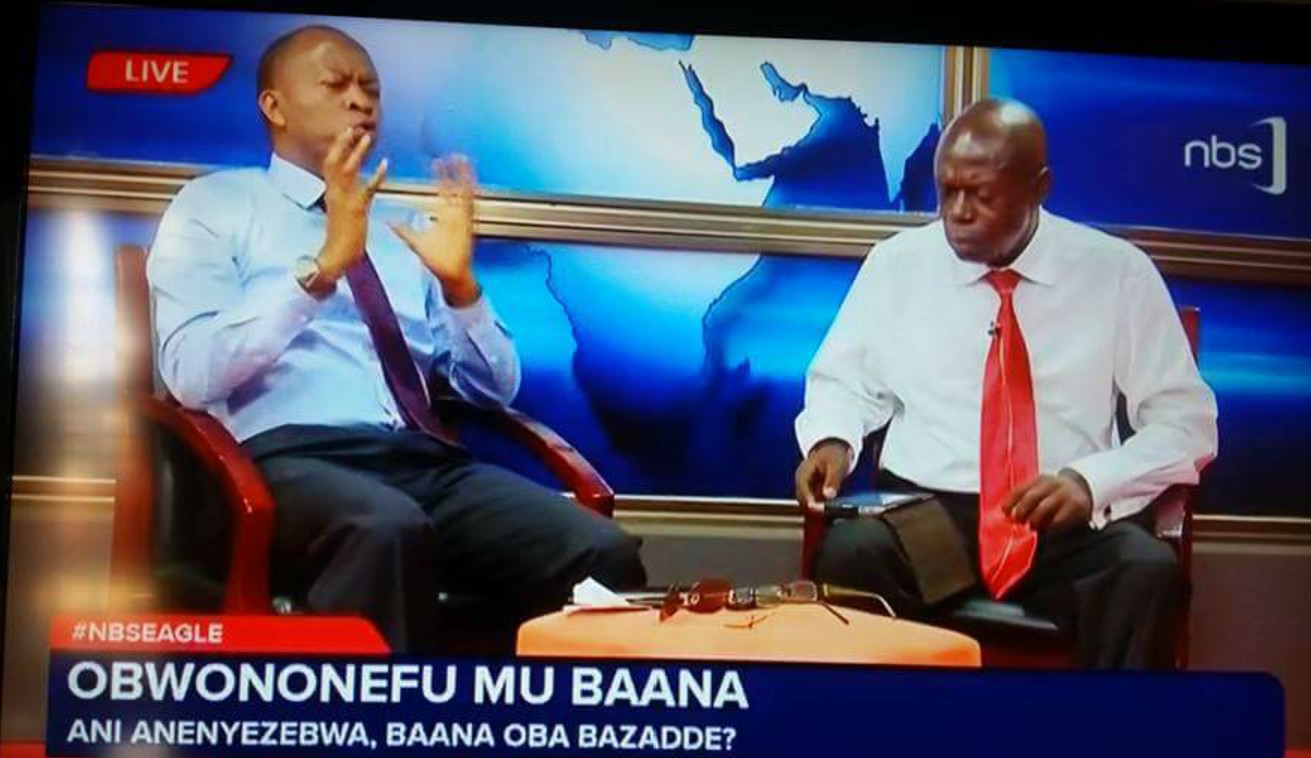 It is now official that the Nbs TV Eagle Show is no more after hosts Frank Gashumba and Basajja Mivule disagreed with the Kamwokya-based television station. Both Gashumba and NbS have responded.
Gashumba suggests that Buganda kingdom and central government heavy weights have a hand in his woes while the television station accuses the show hosts of refusing an moderator that would make the show more useful. NBS also accuse Gashumba of allegedly conning "some individuals".
NBS also claims UCC ordered that the show be moderated, and Gashumba has vowed to take legal action against both.
In this war of words, accusations and denials, The Tower Post publishes a response Gashumba penned for the show's followers on his social media page, and also NBS TV's letter in reply.
FIRST: FRANK GASHUMBA'S VERSION
Naked Truth: Why I resigned from NBS TV (The Eagle Talk Show)
January this year, I received a phone call from Mr. Kin Karisa the CEO of NBS TV and asked me why I no longer feature on his TV station and I told him that he should ask the that the management of his station especially moderators of the shows that I used to feature! Their (moderators) mindsets rotate on hosting Politicians for reasons better known to them. He invited me for a meeting in his office and told me that he wanted me to have two shows on NBS; I told him that I can only do one show and it has to be a LIVE show not a recorded one so that I can interact with the viewers. He suggested that I do that show with a politician which I refused straightaway because politicians in Uganda focus their brains on the next election! On the contrary, I focus on transformation if the grass root person! I therefore told him that my show should be aimed at changing the population socially and economically! In that meeting, I suggested a person that I have done a radio show with, in this case being Basajja Mivule, he instructed me to bring him in for a meeting which I did. He again requested me to look for a name for the show but according to him, the name for the show was to be in English rather than Luganda! A name that relates to people who listen and understand Luganda! Basically the name should cut across.
It took me a week, that's when I came up with a name 'THE EAGLE' we discussed it and I gave him reasons why it should be named 'The Eagle' and we agreed. He told me our show must start the first week of February, I did the artwork for the eagle talk show then the first Sunday of February we hit the studio and I remember our first show was about 'Who are to blame? Our parents or our children'. After the show I received hundreds of phone calls and messages thanking me that at last they have a show that will keep them in their sitting rooms on Sundays.
The following Sunday we did a show with a topic 'Is the education syllabus in Uganda benefiting our children?' in summary, our show has been rotating on social mindset change (PUSH FORWARD).
On March 12th, we had a show where we were elevating the former leaders of Uganda, we were relating them to the current leaders ' Do we have leaders or servants' in that show we talked about the Late Joshua Mayanja Nkangi (The late Katikiro of Buganda) how humble and honest he was and the things he did for Buganda and Uganda generally. Now I hear, the mistake we did in that show was showing UPDF soldiers kneeling before the current Katikiro of Buganda. The type of pomp the current Katikiro uses. Now I hear, that show didn't go well with some gods in Mengo Government. That's when these gods contacted UCC to either have Gashumba removed from NBS TV SHOW 'THE EAGLE' or have a moderator to contain him!!!
On the day Felix Kaweesi was murdered on Friday 17th, we were invited for a content meeting in that meeting, Basajja Mivule was present, Kariisa (CEO NBS) was present, Ramathan (Chief Operations Officer NBS) and Chris (Programs Manger NBS) were present. To my surprise, another strange person Simon Muyanga was presented too. Karisa kicks of the meeting telling us that he has received instructions and warnings from UCC that he must get someone to moderate the show. That Gashumba and Basajja Mivule are too poisonous to the public, he immediately tells me that they had a meeting the previous day and they had decided that Simon Muyanga will be the moderator.
I immediately told him that administratively that's not how companies work!! I told him he would have called me and told us where we had gone wrong and I told him that this is not a meeting. I also told him that he was just giving us new instructions and I immediately resigned from the show! I informed him that I was not on NBS for money, I was on NBS to inspire people especially the youth and those who have ears to listen to believe in themselves and change their livelihoods. I also asked him who gave UCC the power to determine who hosts a TV show on a privately owned station! I told him that if he allows small gods to use UCC for their selfish ends, that will be the end of the media freedom in uganda.
Thank you Karisa for making me prove to Ugandans that within a month, I can make a TV show a must-watch in Uganda.
We have no option but to challenge the powers of UCC in the Courts of Law!
SECOND: NBS TV'S RESPONSE