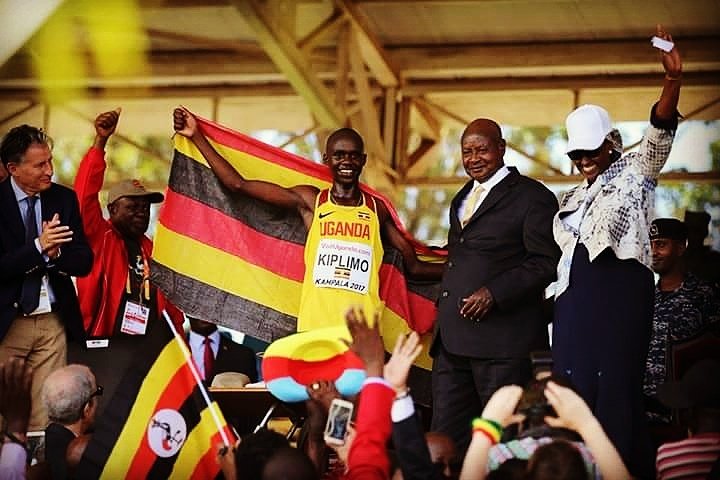 President Yoweri Museveni has assured participants of the International Association of Athletics Federation (IAAF) that Uganda is peaceful and safe adding that the government is doing all it takes to make the country a popular and major sports destination in the world by organizing regional, continental and International events.
"It gives me great pleasure to welcome you to Uganda today at Kololo Independence grounds for this great world cross country sporting event the first of its magnitude ever held in Uganda here. Our country is peaceful and safe. Therefore, I want you to feel welcome", he said.
The President was opening the 42nd event of the IAAF World Cross Country Championship at Kololo Ceremonial grounds in Kampala.
The one day event attracted over 500 athletes from 59 countries worldwide.
Mr. Museveni who was delighted to be among great distinguished persons like the IAAF president Mr. Sebestian Coe said, Uganda  is little known by many people  and yet Africa is summed up by the situation of the beautiful country- Uganda.
"If you want to know Africa, come to Uganda because it is the center of Africa. From here to Cape Town in South Africa it takes 5 ½ hours; and from here to Alexandra in Egypt it also takes 51/2 hours," he observed.
The Minister of Education and Sports, Hon. Janet Museveni noted that Uganda is a country blessed by God with beautiful climate and a welcoming people.
She encouraged participants at the IAAF event to profit from the time they spend in Uganda and make it memorable to urge them visit the country often.
"Uganda is a country blessed by God; beautiful climate with a welcoming people. We are always only happy to share it with the world. That is why we welcome you so warmly to be here with us today'" she said.
The President of IAAF Mr. Sebastian Coe, who was a winner of the 1980 and 1984 Olympic Games, expressed his heartfelt thanks to the Government of Uganda for hosting the IAAF world cross country championship in Uganda.
He equally thanked the organizers and all stake holders for the job well-done.
"'IAAF is exceptionally proud to be hosted in Kampala. I thank the Government of Uganda, Kampala Capital City Authority and all stake holders of the event," he said.
Uganda was made proud by a 16 year old Jacob Kiplimo from Kween in Kapchorwa district who won a gold medal. Uganda also got 2 bronze medals.
The next edition of the 43rd IAAF World Cross Country Championship will take place in 2019 in Denmark.
Comments
comments