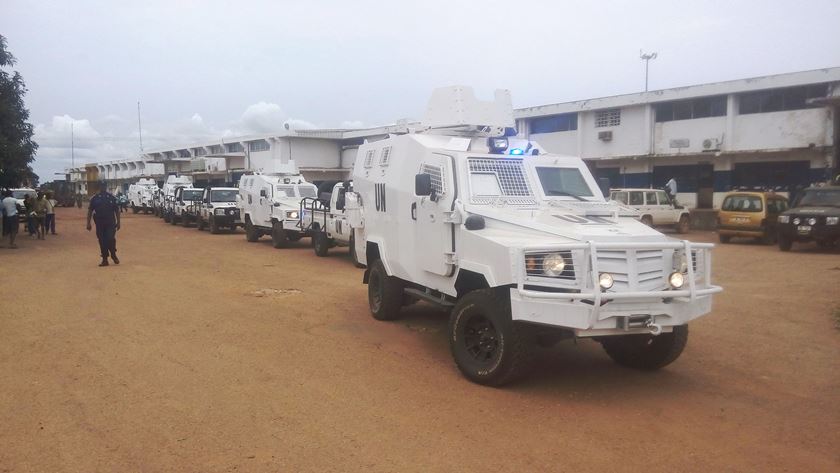 Rwanda National Police (RNP) is set to increase its participation in United Nations peacekeeping missions when they deploy the sixth Formed Police Unit (FPU) to serve under the UN Mission in South Sudan early next month.
According to Assistant Commissioner of Police (ACP) William Kayitare, the Commissioner for Peace Support Operations in RNP, equipment for the new contingent of 160 officers, have already arrived in Juba where they will be stationed.
The advance party will depart this Friday.
The new force joins another hybrid FPU contingent of 240, and 29 police advisors, currently serving under UNMISS.
Meanwhile, the other FPU contingents include three currently deployed in Central African Republic (CAR), and one in Haiti, each composed of 140 officers.
"The mandate of the FPU contingent will be protecting civilians from eminent threats, public order management, protection of UN key installations and personnel, and humanitarian assistance," said ACP Kayitare.
Once the contingent is deployed, it will bring the number of Rwandan police peacekeepers in all missions to about 1200 personnel.
"The continued participation and increase in peacekeepers in number is proof of how the United Nations has much trust in Rwandan peacekeepers, and Rwanda's commitment to international peace," said ACP Kayitare.
"Our servicemen are guided by professionalism, commitment and discipline. They have gone beyond just the mandate to even help people in the countries where they are deployed to acquire a better life," he said.
ACP Kayitare gave an example of RNP's peacekeepers serving under United Nations Stabilization Mission in Haiti (MINUSTAH), who were highly affected by hurricane Mathew in November last year, but put forward the life of the affected citizens and "worked selflessly" to help them get back on their feet.
"When hurricane Mathew hit Haiti, our peacekeepers' base was equally affected but before they could rebuild their base, they prioritized helping the people, created pathways for humanitarian aid, and helped in reconstruction of the affected infrastructures," he said.
Rwanda is currently among the leading contributors of women Police officers in peacekeeping missions, and is among the few countries that have elaborated the UN Security Council Resolution 1325 action plan.
The resolution urges all actors to increase the participation of women in conflict resolution, peacekeeping and incorporate gender perspectives in all UN peace and security efforts.
Former RNP peacekeeper, Antoinette Umuraza was in October 2015 appointed the chairperson of the United Nations Police (UNPOL) Women Network under the UN Multidimensional Integrated Stabilization Mission in the Central African Republic (MINUSCA).
Another female officer, Sergeant Felicite Mujawamariya was in 2015 also recognized by UN for her exceptional performance describing her as "articulate in her duties" as the coordinator of gender related projects in UNAMID, while also being "exceptional in preparing community policing initiatives."
Comments
comments