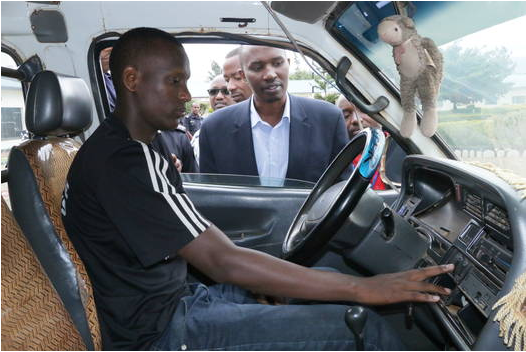 Rwanda National Police (RNP) has arrested 30 drivers of public transport vehicles for allegedly manipulating speed governors, and impounded about 40 vehicles whose devices had been tampered with.
Impounded vehicles also include those that were yet to implement the Presidential Order of February 2015 that requires all public transport vehicles to fit in speed governor that regulates speed at 60km/hr maximum speed.
While addressing journalists, yesterday, at the RNP General Headquarters, Commissioner for Traffic and Road Safety, Commissioner of Police (CP) George Rumanzi said the unlawful act was unearthed in the last one week of operation and enforcement of the Presidential Order, conducted in partnership with Rwanda Utility Regulatory Agency (RURA).
"Currently only 37 percent of public transport vehicles have installed speed governors; this figure is very low and that's why we have intensified efforts in ensuring all public transporters install these devices," CP Rumanzi said.
"However, in the process of enforcement, we encountered drivers or owners of vehicles, who had tampered with the speed governors' systems," he added.
How the system is deliberately jammed
It is alleged that drivers or owners of the vehicles had overrun the system to switch on and off the device whenever they wanted especially when they noticed traffic officers, after installing switch button through the system backdoor.
Others had devised ways to plug-in earphones to deactivate the system, while others would drive while the engine is turned off at slop.
"We are going to look at the role played by both the vehicle owner and driver. In one way, it could be the owner who manipulated it, but it is also the driver who uses it," he said.
"The February 2015 Presidential Decree gave owners of vehicles a grace period of 12 months to install speed governors, and concerned agencies established standards of how it should be done. Thorough vetting was done and five companies won the tender of supplying the devices," said CP Rumanzi
He said that those who altered speed governors will automatically lose their motor vehicle inspection certificate and their buses will not be allow on the roads until they comply with all required standards.
Also, one of the measures that authorities are considering is stripping off of the public transport license to whoever tampers with the speed governor, according to the Commissioner.
Reacting to concerns of 60km/hr maximum speed, the Commissioner explained that it was arrived at after considering a number of factors.
"There was consideration of the terrain; our country is hilly, meaning our road have many curves. Any attempt to negotiate a corner at a speed that is above 60km/hr may result to falling off the road. It was therefore a deliberate effort to prevent fatal accidents that largely resulting from high speed by public transport vehicles."
The head of transport at RURA, Emmanuel Asaba Katabarwa said; "There was a grace period offered by presidential degree, we later took time to sensitize owners and drivers, so whoever has not installed the device or tampers with it will not be tolerated. The law will catch up with them."
Comments
comments