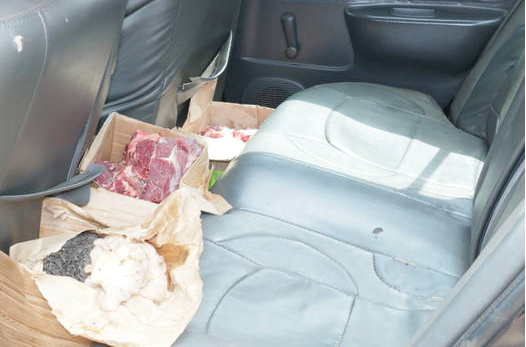 Police in Nyarugenge District, on April 1, intercepted a special hire vehicle, which was transporting meat contrary to the legally set health standards.
The taxi registration number RAB 128Z, was intercepted in the down-town Nyabugogo and the driver arrested.
The meat was found concealed in boxes and plastic bags and stashed in the back seat and the boot of the car.
Police spokesperson for the City of Kigali, Supt. Emmanuel Hitayezu warned against such unhealthy ways of transporting meat.
"There are set hygienic standards under which meat should be handled, packed and transported by a specific vehicle which also fulfills all the required standards. Contrary to that, you will be arrested," Supt. Hitayezu warned.
A Ministerial Order on transport and trade of meat of November 2010 specifies that the transport of fresh chilled or frozen meat for food purpose shall be carried in such a manner to not be seen from outside. The meat shall be properly covered and protected against the sun, rain mud, dust and flies.
The transportation of fresh, chilled, or frozen, unpackaged meat by motor vehicle shall be done in closed vans, separate from the driver, and internally covered with galvanized brass or any other stainless material. It could also be because the temperature danger zone is usually between 41 and 135 degrees Fahrenheit. This temperature range can promote the fastest growth of harmful bacteria. To avoid temperatures entering the Temperature Danger Zone, meat should not be left out of refrigerated or freezer storage for more than 1 hour. The safest precaution could be monitoring the fridge temperatures frequently during Meat Transportation, which can only be done in closed vehicles.
The Ministerial Order also states that the upper part of the van transporting meat should have rails to facilitate the handling of meat. In addition, its interior layout shall allow daily cleaning using water with detergent, and that people employed in the transportation of meat shall be wearing washable overcoats and hats, and properly shod.
He also warned against illegal abattoirs and appealed to the general public to buy meat from recognized and hygienic place and report people that could be involved in such illegal meat business, which could be harmful to the people.
There are only three licensed abattoirs; Nyabugogo, Kicukiro and Kabuga.
Comments
comments