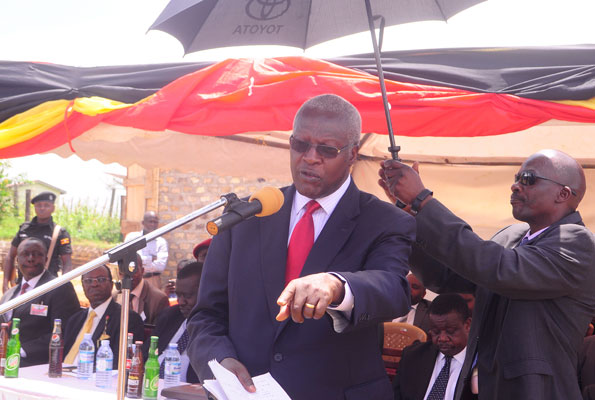 Uganda's Chief Justice Bart Katureebe has said that people who tempt judicial officers with bribes are satanic.
Officiating at the commissioning of Mitooma Justice Centre in Mitooma Town Counci, Mitooma district, Justice Katureebe said: "I am a Catholic. You who bring money to bribe judges are Satanic! You are Satan! The prayer of our Lord says lead us not into temptation. That is how we pray."
He also asked residents to cooperate with the judicial officers in fighting corruption.
"What I ask you is help us and we help you. Katureebe will do his job, get his salary and go tomorrow but the country will be here. If you help us [stamp out corruption], you are helping yourselves because this is our country and nobody else is going to help us.''
He encouraged the locals to report corrupt judges: "Even if it you find the Chief Justice taking a bribe report him so that we can fight corruption to save our country. Court is not a building but symbol of justice. We seek pure, simple and unadulterated justice. Stop giving bribes and help us deliver justice."
Justice and Constitutional Affairs minister Gen Kahinda Otafiire argued that both the givers and receivers of bribes should be punished.
"You cannot kill a person who has never been born and therefore a judge cannot take a bribe when you have not brought it to him. So, those who bring the bribe and those who take it should be arrested and taken to prison because they all break the law,'' he said.
Comments
comments