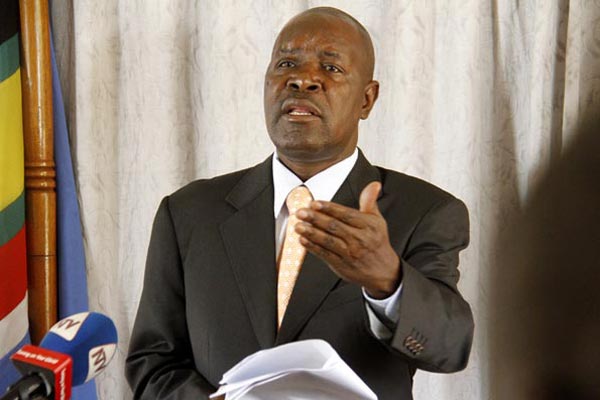 Government spokesperson Ofwono Opondo has said termed claims that president Yoweri Museveni had okayed dialogue and the audit of last year's presidential poll results as "false… drama and comedy".
Dr Besigye has been quoted by sections of the media as confirming that there were plans for him and Museveni to have dialogue and audit the poll results. Besigye was addressing a workshop for his Forum for Democratic Change (FDC) party members in Soroti District.
But Opondo, who also heads the Uganda Media Centre, saying that neither State House (nor government) knew had agreed to Besigye's demand for an audit, that Sweden had no been approached to mediate talks and that no country would interfere in the affairs of Uganda, a sovereign state.
HERE WE PUBLISH OFWONO OPONDO'S FULL STATEMENT
Response to Dr Warren Smith Kizza Besigye Kifefe's false claim on dialogue
For some time now Dr Kizza Besigye, the four-time presidential candidate and loser, and some of his political allies have been going around the country making many false claims. In spite of the clear provocations, false insinuations and misrepresentations of material facts, government had deliberately ignored Mr. Besigye, and he has not on his own found the decency for self-restraint.
Among the many falsehoods Mr. Besigye has pandered are;
 That he won the 2016 presidential elections with 52% votes cast, but that he was cheated
2. Consequent upon that false claim Besigye has been calling for an independent election audit by an international neutral body
3. That there should be dialogue between him and President Museveni over these election results and the possibility of varying those results and outcome
4.  Yesterday, in a bizarre twist he added that they (Besigye & group) had been approached by President Museveni over the dialogue and that there was an agreement to audit election results.
5. That the dialogue should include president Museveni's possible exit.
Government today wishes to categorically inform the country as follows; first, we believe that Mr. Besigye is doing all this for political grand-standing, continuous publicity and comedy because the title of presidential candidate ended with elections, and indeed no other former participants in that election goes by that title anymore except him
The 2016 presidential elections were over and results lawfully and appropriately declared and gazzetted by the Electoral Commission as mandated by the Constitution of Uganda. Those that were dissatisfied with the results went to the Supreme Court in accordance with the established procedures and the Court gave its public verdict, and therefore that matter is settled and won't be revisited by anybody including the purported foreign countries.
So, the claim by Mr. Besigye that there is an agreement presumably between him on one side, and government and President Museveni to audit the election results is not only false but grossly preposterous. No such an audit has been a subject of discussions anywhere within government.
Never the less, we hereby challenge Mr. Besigye to publish the results he claims to have so that you the media and public scrutinize his absurd claims government would like to state categorically that neither government nor President Yoweri Museveni has approached Mr. Besigye or anyone else to solicit for dialogue over the election results as Mr. Besigye has falsely claimed.
There is no mediation efforts by anybody, country, power, local or international institution. We further challenge the Swedish government to come clean on who actually approached it on the said dialogue otherwise it is a hoax.
It is as laughable, as it as an absurdity for anyone to imagine government can at this point discuss President Museveni's possible exist as if he was unlawfully in office. It demonstrates the utter bankruptcy and desperation on the part of Mr. Besigye and those he seeks to mislead.
While it is true that government has been approached by multiple groups mainly local (Inter-religious Council, elders, and women among others) to have dialogue with opposition groups in the country to handle and hopefully resolve some of the outstanding political, social and economic issues facing the country none of the efforts has taken off. As a principle, the NRM government is open to and welcomes all efforts at constructive engagement including talks with those we may have some disagreements, Therefore o, in principle, talking is not an issue.
The claim that Makindye military barracks is full of detained soldiers seeking to mutiny in support of the opposition [sic. Besigye] to bring about speedy and unconstitutional political regime change is false. Again we challenge Besigye to provide the full names of those soldiers, their ranks, and units they came from otherwise he shuts up. This type of false claim by Besigye isn't entirely new or surprising because he first made it way back in 2001 when he claimed that he enjoyed then 90% political support within the army. Today, as everybody knows Mr. Besigye has been crying that the UPDF and Police is President Museveni's loyalist outfit to keep him in power, and so it is really difficult to believe which Mr. Besigye is right. We see this as part of futile efforts to sow cracks within the security service.
On the economy, it is not the first time Mr. Besigye has claimed it is in total ruins. An economy that is in total ruins cannot support the multiple huge infrastructure projects currently underway, and as well at the same time simultaneously support our national recurrent expenditure including paying the public servants and fund our democracy one hundred percent. Obviously, the Uganda economy like that of much of Africa is under-going internal structural strain, and global pressures. The answer is not to run away from governance and leadership, but rather staying firm, and the NRM and its leadership has proven its capability over these past three decades. Just how many times in Mr. Besigye's view will Uganda's economy will collapse is hard to tell. To Mr. Besigye and other doomsayers, we can only advise them to organise better after-all the next circle of general elections at which Ugandans shall have an opportunity to renew the mandate of their leaders is only four years away from now.
……………………………………………………………………………………………………………………………………………..
Comments
comments