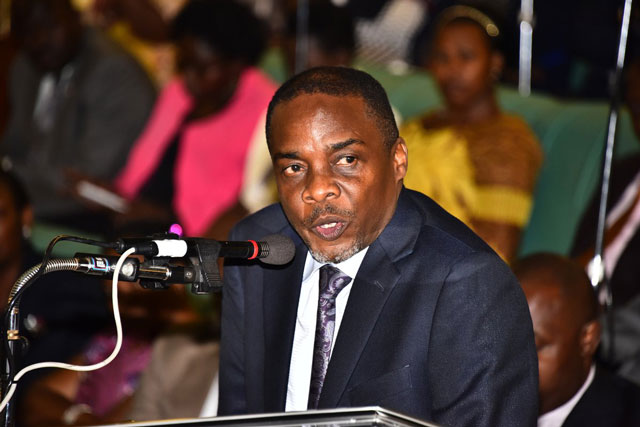 Attorney General William Byaruhanga on Tuesday presented a statement on the position of Uganda regarding the International Criminal Court (ICC) following the stinging criticism of the court by Uganda's president Yoweri Museveni and others top officials like deputy speaker Jacob Oulanyah.
During his inaguarual speech as he swore in for his fifth term on May 12, 2016 at Kololo independence grounds, Museveni said ICC was "a bunch of useless people".
Chwa West MP Ojara Okin had raised a concern that Uganda was in the process of withdrawing from ICC yet there were pending cases referred to the Court by the same nation (Uganda).
In response, Byaruhanga told MPs that Uganda was committed to working with the ICC but admitted that the east African nation had its reservations on The Hague.
He said that he had made Uganda's position last November.
"On 16th and 22nd November, 2016, I represented Uganda at the 16th session of the Assembly of states parties of the Rome statute of the ICC," he narrated.
"On an inquiry whether Uganda intended to withdraw from the Rome statute, my responses was that government has not notified any person or organization that it was or is withdrawing."
But the MPs seemed suspicious of Byaruhanga's response, some terming it ambiguous, and others speaking against any attempt to withdraw from the court.
Bernard Atiku (Ayivu County) said: "We should support the ICC and continue cooperating with it so that we live in dignity."
William Nzoghu (Busongora North) argued that the people in the Rwenzori would be disappointed if Uganda pulled out of ICC with a pending case on last year's clashes.
"It is this Parliament that ratified Uganda's membership to the ICC. We should accept that Uganda is bigger than we are, and will exist after us, before we let something like this happen," "As MPs and in the interest of justice and international unity let us support co-operation with ICC," Nzoghu said.
"We the people of Kasese have already taken three Ugandans to the ICC, including President Yoweri Museveni in his capacity as Commander-in-Chief of armed forces, Brig Peter Elwelu, and Assistant Inspector General of Police Asuman Mugenyi for the attacks that left several people dead in the region last November."
WHAT OTHER MPS SAID
Patrick Nsamba Oshabe (Kassanda North): "We as Ugandans demand a clear stand on the position of the government on whether, after adopting the ICC, it is still interested in conforming to it."
Jacqueline Amongin (Ngora District woman): "My question to the government therefore is; what is our stand as Uganda? Are we going to leave or not?"
ADDITIONAL REPORTING/COURTESY
Comments
comments