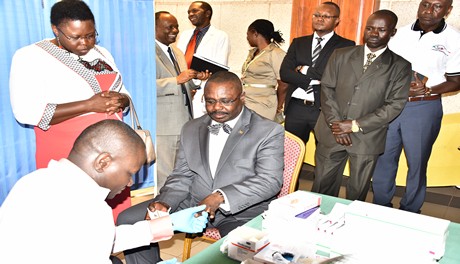 The deputy speaker of Uganda's Parliament, Jacob Oulanyah, has advised MPs to find time for engaging in physical exercises for better health.
Oulanyah gave the advice while officiating at the opening event of the Health Camp aimed at testing ministers and members of parliament for non-communicable diseases at Parliament on Wednesday.
Over 135 MPs were screened for blood pressure, prostate cancer, and other conditions in the two-day camp at the Members Lounge of Parliament in Kampala.
"I pity those who say that they do not have time for exercise; unfortunately, the time to die will find you," he said.
"I told myself that I will not be killed by these non-communicable diseases. I have worked hard, eat well and after testing, I expect a clean bill of health."
Oulanyah thanked the Health ministry and called for the extension of such health camps across the country.
"We need to make this campaign stronger and avail it to the rest of the country and to the people," he rallied.
The State Minister for Health in Charge of Primary Health Care, Joyce Moriku, called for a culture of regular health checkups.
"It is important to know your condition. Let us have a culture of checking ourselves regularly," she said.
Comments
comments