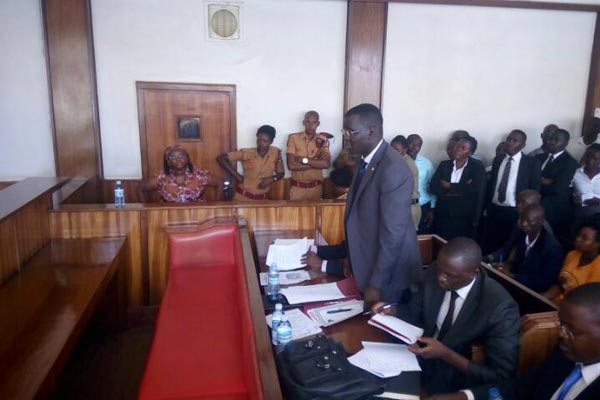 Makerere University research fellow Dr Stella Nyanzi was today arraigned before Buganda Road Court in Kampala, days after she was arrested last Friday.
Dr Nyanzi was brought from Kira Divisional Police Headquarters to Buganda Road Magistrate's Court amidst tight security.
According to the charge sheet, she has been charged with two counts: two counts including cyber harassment contrary to section 24 (1)(2)(a) of the Computer misuse Act 2011 and offensive communication contrary to section 25 of the Computer Misuse Act 2011, both relating to Facebook posts against President Yoweri Museveni.
According to prosecution, the first count relates to a January 28 Facebook post.
"Dr Nyanzi on January 28, 2017 at Kampala District or thereabout used a computer to post on her Facbook page "Stella Nyanzi" wherein she made a suggestion or proposal referring to His Excellence Yoweri Kaguta Museveni as among others "a pair of buttocks" which suggestion/proposal is obscene or indecent," reads the first count.
For the second count, prosecution alleges that "Dr Nyanzi between January 2017 and March 2017 in Kampala district willfully and repeatedly used electronic communication to post messages offensive in nature via Facebook, transmitted over the internet to disturb or attempted to disturb the peace, quiet or right of privacy of his excellency the president of Uganda, Yoweri Kaguta Museveni with no purpose of legitimate communication."
Comments
comments