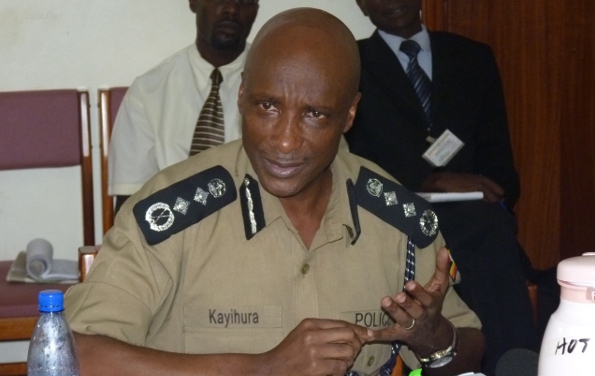 Uganda Police Chief Gen Kale Kayihura has spoken out on the security siatuation in the country, assuring Ugandans that the force was "on top of the situation".
Gen Kayihura addressed journalists at Katwe Police Station in Kampala on Monday.
Greater Masaka has seen a spate of attacks by unknown assailants who raid villages, and injure locals.
The police chief said that the force has tightened security in the region.
"We've tightened security in greater Masaka. Patrols have been frequent. Greater Masaka has been calm for two weeks now."
He also revealed that a number of arrests had been made patrols increased in the area.
"Over 100 suspects in the Greater Masaka region have been arrested and over 50 of them have appeared before Court."
ORGANISED CRIMINAL GANGS
Kayihura also told journalists that police reports indicated that the assailants were members of organised criminal gangs.
"What we are sure of is: this is organised crime and not just individuals."
He also suggested that the attackers could have connection with political groups.
"These criminal attacks might be linked to some political elements who want to create fear among people."
Kayihura admitted that police had challenges but assured the public that the situation was under control.
"There are a few gaps here and there which we are looking at filling in our police system. We want the public to know. We are on top of the situation."