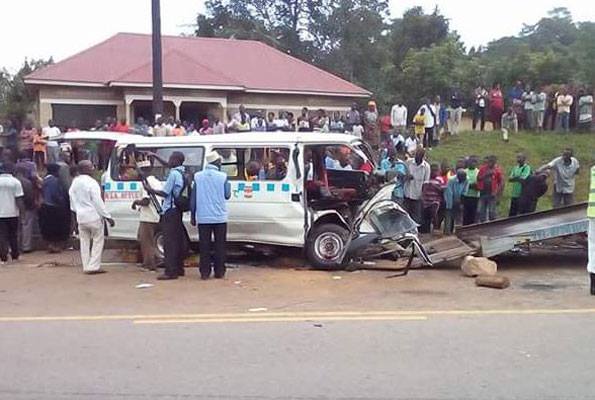 An accident involving a commuter taxi and Mitsubishi Pajero on Kampala-Masaka Road claimed four lives and left 15 injured.
The accident happened at Kabira village, Kamengo, in Mpigi District on the Kampala-Masaka Highway on Sunday evening.
A commuter taxi Registration Number UAX 751M headed for Kyotera in Rakai District collided with a Mitsubishi Pajero Registration Number UAQ 770S that was headed in an opposite direction.
Eye witnesses say the Pajero had veered off its lane and crashed into the taxi.
Police have also blamed the Pajero driver for flouting traffic rules.
Police has identified the dead as taxi driver Michael Ssebunnya; Robert Bwanika, a resident of Nyendo in Masaka District; Maria Nankinga from Mukono. The fourth was a yet-to-be identified young man.
Arafat Muyingo, the driver of the Pajero driver; Beatrice Nansamba, a resident of Kinyerere in Masaka District; Mr Emmanuel Ssenyonyi, a resident of Kabuwoko are among the injured. Others were: Aisha Nakalema of Nyendo; Gerald Mukasa of Mukono; Annet Nakasiita of Bisanje village; Jackline Namulindwa; Jane Sarah of Gomba; and Kamya Ssewanyana of Kyotera.
Comments
comments