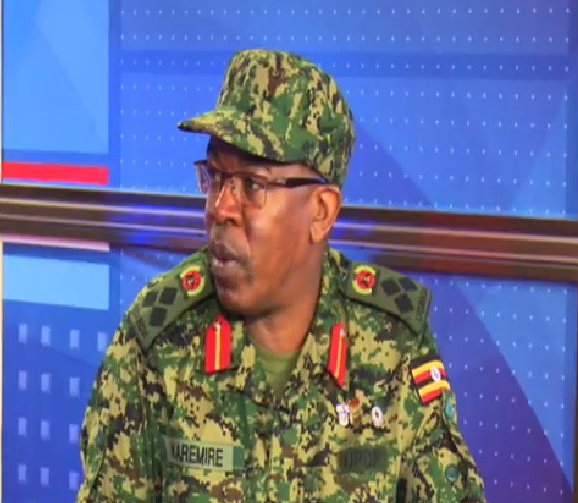 The Uganda People's Defence Forces (UPDF) spokesperson Brig Richard Karemire has spoken out on the withdrawal of the army from the Central African Republic (CAR) where the forces had deployed to hunt down Lord's Resistance Army (LRA) rebel leader Joseph Kony eight years ago.
Uganda sent troops to CAR in 2009 after and his men were flushed out of Uganda and pitched camp in CAR. A year later, 100 Special Forces were sent by the US to reinforce UPDF.
KONY WEAKENED
Karemire told NBS TV during a Monday morning show that Kony had been weakened.
"Kony has been weakened. He can no longer recruit or abduct our people. He has no ability and capability to do so," Karemire said.
"Eight years ago, LRA rebels were around 5,000. They are now less than 100. They have weakened."
KONY'S HEAD NOT OUR MISSION
The UPDF has not been able to capture Kony or kill him. According to Karemire, "Our mission in CAR was to neutralize LRA and break their capability of returning to Uganda. Kony's 'head' was not our job".
"Let's not look at Kony, let's look at the capability of LRA returning to cause havoc in Uganda."
He said also said that the two former rebels who had surrendered were now in the hands of Amnesty Commission and there was a plan to grant them amnesty – without any charge.
Karemire also revealed that the hut for Kony and his accomplices would continue emphasising that "withdrawing from CAR will not stop us".
THE WITHDRAWAL
The UPDF spokesperson also refuted allegations that the withdrawal from CAR was informed by the pulling out from the country of US troops.
"Our withdrawal from CAR is according to our own plan. It has nothing to do with USA's withdraw from the mission… In March, we had a meeting with our partners in Addis Ababa and informed them that we had accomplished our mission."
He added that the last batch of soldiers would return by May.
"We had around 1,000-1,500 soldiers in CAR. As per our plan, they will all be withdrawn by the end of May."
The UPDF also plans to grant the returnees fresh opportunities and consequently redeploy them elsewhere, according to Karemire.