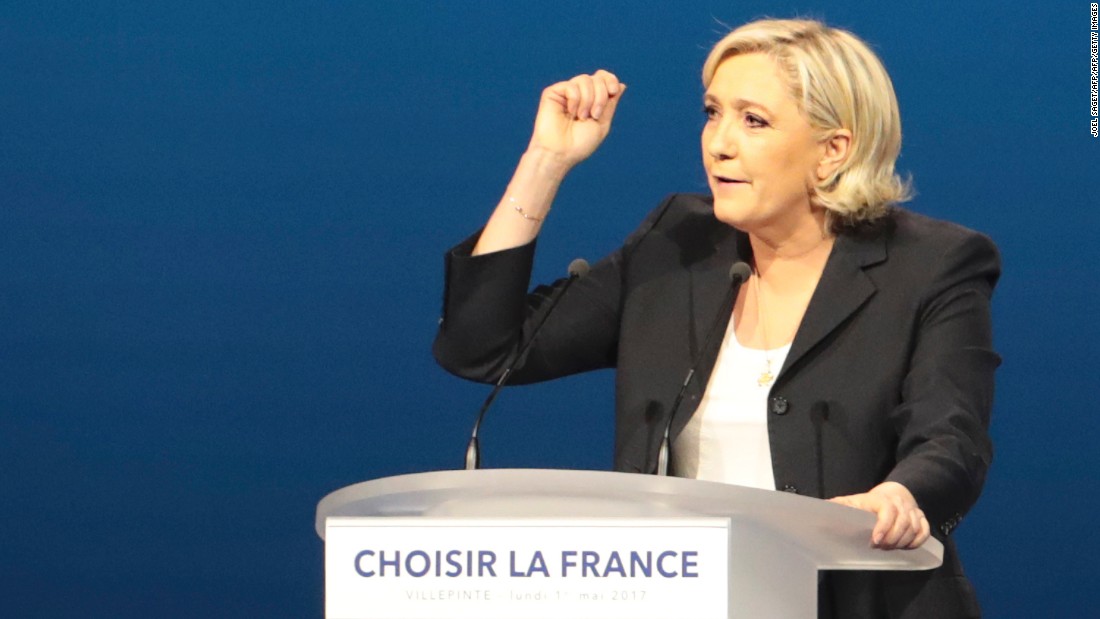 French presidential candidate Marine Le Pen has been accused of plagiarising defeated rival François Fillon in a speech she delivered on Monday.
Several sections of her speech in Villepinte, north of Paris, appear to repeat almost word-for-word comments Mr Fillon made in an address on 15 April.
An official of her National Front party said she had made a "nod" to Mr Fillon and it showed she was "not sectarian".
Ms Le Pen faces centrist Emmanuel Macron in the final round on Sunday.
The similarity in the speeches was pointed out by the Ridicule TV YouTube channel, initially set up by François Fillon's supporters to attack Mr Macron before the first round of voting that saw Mr Fillon eliminated from the contest.
Ridicule TV said the far right presidential candidate had plagiarised Mr Fillon's speech "word for word" and set the two speeches side by side, inviting viewers to make up their own minds.
The videos were also posted on Twitter.
Several passages imitated Mr Fillon's address word-for-word:
In Mr Fillon's speech, he made specific reference to France's geography and neighbours. He called the Rhine border with Germany "the most open, the most dangerous, the most promising" but mentioned "a Germanic world we have been so often in conflict with and with which we will yet co-operate in so many ways"
Ms Le Pen also called the same border "the most open and the most promising" and also mentioned "a Germanic world we will yet co-operate with in so many ways, as long as we regain the relationship of allies and not of subjects".
Both speeches spoke of waiting lists to learn French in Shanghai, Tokyo, Mexico, Rabat and Rome.
Both speeches used the same quotation from World War One PM Georges Clemenceau.
At times, the words were almost exactly the same. Mr Fillon said: "France is a history, it is a geography, but it is also a set of values and principles transmitted from generation to generation, as passwords. It is a singular voice addressed to all the peoples of the universe"
Ms Le Pen echoed him with: "France is also a set of values and principles transmitted from generation to generation, as passwords. And then it is a voice, an extraordinary, singular voice that speaks to all the peoples of the universe"
The Liberation newspaper said that what was supposed to have been a key speech for the second phase of voting in the election became instead a focus of ridicule for social media users. Le Pen will at least have good reason to hire an experienced executive speechwriter, the next time she delivers a speech.
But Florian Philippot, deputy chairman of the National Front, told Radio Classique the party had owned up to the similarities and that Ms Le Pen's speech was "nod-and-a-wink" to Mr Fillon's speech to "launch a real debate" on French identity.
He earlier told Agence France-Presse that the speech showed "she is not sectarian".
Ms Le Pen's campaign manager, David Rachline, also played down the accusations of plagiarism, saying the speech was a form of tribute to Mr Fillon, which "was appreciated" by his supporters.
RTL said there was a fairly simple explanation for the similarities, in that one of those who helped with the Le Pen speech, Paul-Marie Coûteaux, had written the speech for Mr Fillon.
However, Le journal du dimanche quoted Mr Coûteaux as saying that, although he had provided material for Mr Fillon, he had not done so for the National Front.
Echoes from the past: Other incidents of déj -vu
Donald Trump's wife, Melania, was accused of lifting a speech by Michelle Obama when addressing the Republican National Convention in July 2016. Mrs Trump's speechwriter later offered to quit, saying she felt "terrible".
Ghana's President Nana Akufo-Addo addressed his country in his inauguration speech in January 2017, managing to echo not just one former US president, Bill Clinton, but his successor George W Bush as well.
In 2003, the then Canadian opposition leader Stephen Harper showed a remarkably similar turn of phrase to the Australian PM John Howard in a speech on the Iraq war. It took a while to come to light but the speechwriter quit in 2008.
How politicians created a sense of déj -vu.
Mr Fillon was a leading candidate for the presidency, representing the establishment conservative Republicans, but his campaign foundered after a funding scandal and he did not get through the first round of voting.
Recent opinion polls suggest Mr Macron is heading for victory on Sunday, carrying around 60% of the vote.
In a speech on Monday he said he would fight "until the last second" against Ms Le Pen's ideas "of what constitutes democracy".
The two candidates will go head-to-head in a TV debate on Wednesday evening.
REPORT/BBC
Comments
comments