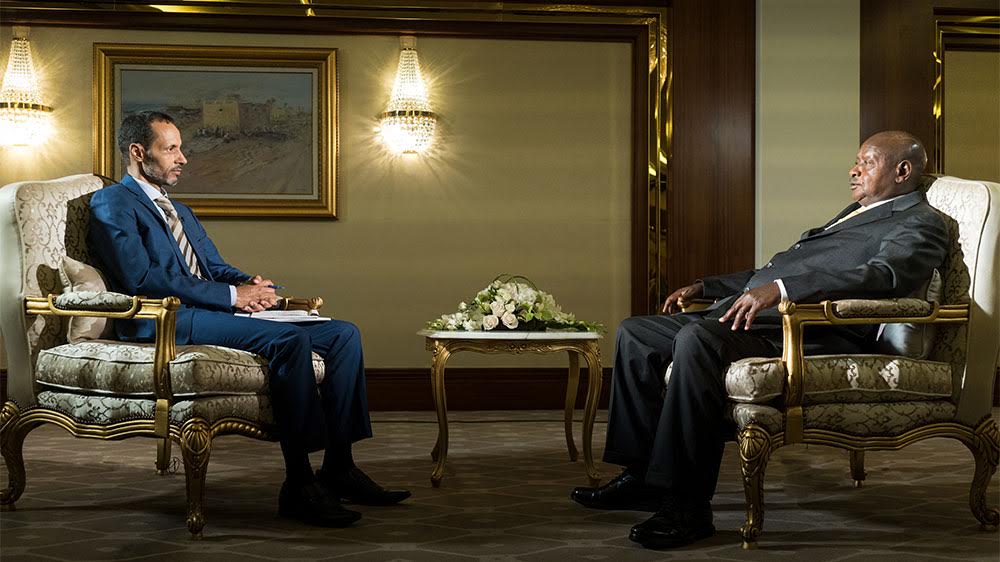 President Yoweri Kaguta Museveni had an exclusive interview with Al jazeera when he visited the State of Qatar recently.
When asked if he was planning to run for another term as president of Uganda, Yoweri Museveni told Talk To Al Jazeera's Mohamed Vall, "We will follow the constitution."
Museveni has ruled Uganda for 31 years, with five presidential terms in office.
At 72 though, he is three years away from the constitutional age limit to serve as president. He dismissed speculation that he will try to change that limit to extend his term. "I cannot change the constitution because I do not have the power."
He defended the length of his rule. "Have you heard of something called democracy?" he asked Vall. "Democracy means you elect the people you like. We had elections about one year ago. My party got 62% of the vote. In fact, it would have been more if it had not been for quite a lot of spoilt votes. So that does not show that the people of Uganda are fed up with our party, because they have voted for us five times, winning free competition… My party has been winning. Is that an offence to win elections? What are you worried about?"
Similarly, Museveni denied he would go down in history as a dictator. "A dictator who is elected five times? That must be a wonderful dictator."
In the tough interview, Museveni denied that his party had manipulated elections, dismissed claims that he is preparing either his wife or his son to replace him and dismissed claims that freedom of speech is restricted in Uganda.
He also fielded questions about the jailing of opponents like Stella Nyanzi and opposition leader Kizza Besigye; rules preventing people rallying freely; the recent attack on the Rwenzururu Palace by security forces in Western Uganda; and his foreign policy.
Watch the full interview here:
Comments
comments