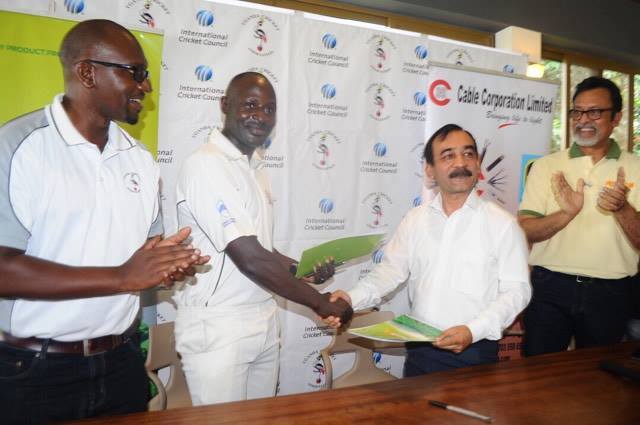 Cricket Cranes' bid to lift the ICC World Cricket League Division Three trophy received a shot in the arm following the unveiling, by Mehta Group, of a sponsorship package worth Shs45 million.
The deal, signed on Saturday May 13 in Lugazi, will cater for among others players' allowances, team bonuses and team kit for the upcoming six-team showpiece scheduled to bowl off next Tuesday (May 23).
According to Uganda Cricket Association (UCA) CEO Justine Ligyalingi, the partnership with Mehta began in 2012 and is only being revived.
"Mehta has been supporting cricket activities in the country with sponsorship to teams such as Nile Knights in the East African Premier League as well as the Women's T20 League.
"Today, however, is special and we would like to thank Mehta for the financial support towards the men's team for this upcoming event," Ligyalingi said after appending his signature to the deal along with UCA chairman Bashir Ansasiira and Mehta Group CEO Anil Shah.
Although the deal will cater for the men's national team, Shah promised to extend financial help to the ladies' team as well.
"Our commitment towards cricket development is unquestionable. This is just the beginning. Next will be the ladies," Shah said, before urging the players to give their all during the 10-day event.
Uganda open their campaign against Canada at Lugogo Oval on May 23 and team captain Davis Karashani believes they have got what it takes to move a division up.
"The mood in the camp is positive. We have a great physio (Habiba) and she is working hard to ensure all the niggles are gone ahead of our opener. The squad is also littered with players of quality and I am positive they will make the country proud," Karashani said.
Oman is expected to be the first country to jet in on Thursday with the rest USA, Canada, Oman, Malaysia and Singapore arriving on Saturday and Sunday. UCA will unveil the new team jersey tomorrow.