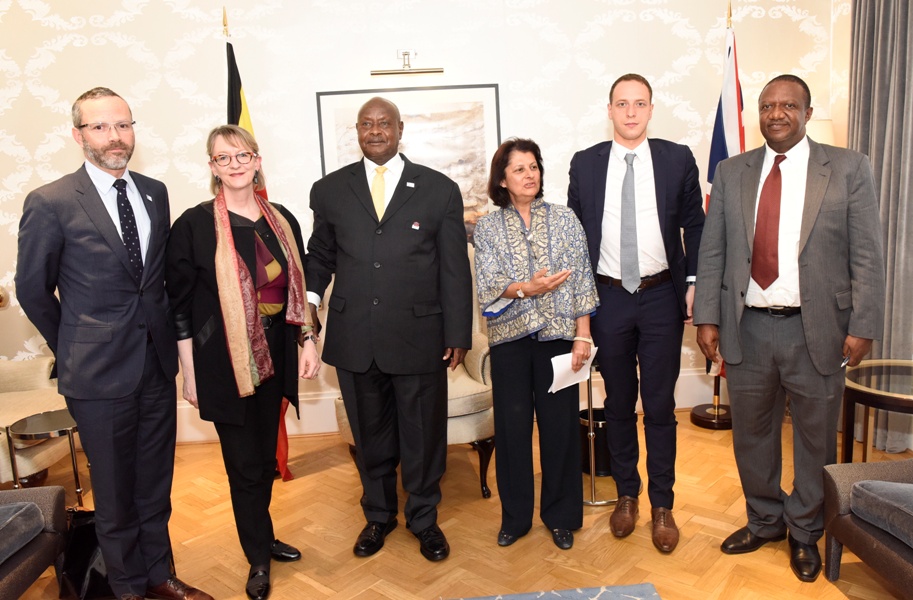 President Yoweri Museveni has said he will highlight the issue of a joint move to Burundi by the lead facilitator and mediator in an effort to urge all stakeholders to engage in dialogue, to the EAC heads of state at the upcoming summit.
"We need a consensus on Burundi as a region. When I take up the chair of EAC at the next summit, I will raise this issue so that we can have a decision. We should never neglect any opportunity for dialogue. We need to ease tensions with regional players," he said.
The President was today meeting Frances' Director for Africa and Indian Ocean Remi Marechau and its envoy to the Great Lakes region Ambassador Sophie Makame who were accompanied by Uganda's Ambassador to France Nimisha Madhivani at his residency at the Taj Hotel, St. James Court in London. The President is in London to attend the International Conference on Somalia.
President Yoweri Museveni who is a mediator in the Burundi peace process will assume the EAC chairmanship at the next summit while former Tanzania President is the lead facilitator.
Amb. Makame said the facilitation of the peace process needs to be given more support and that they want to see a gesture to open up to dialogue by all stakeholders.
There has been a growing concern over the political situation in Burundi, the lack of progress in implementing resolution 2303 (2016) and the lack of engagement by the Government of Burundi thus the need to involve the regional leaders.
Presidents of the six countries making up the East African Community will gather for the 18th EAC Ordinary Heads of State Summit meeting in Arusha this May include Summit Chair, President John Magufuli (Tanzania), President Uhuru Kenyatta (Kenya), Yoweri Museveni (Uganda), Paul Kagame (Rwanda), Pierre Nkurunziza (Burundi) and for the first time, Salva Kiir Mayardit of South Sudan.
Comments
comments