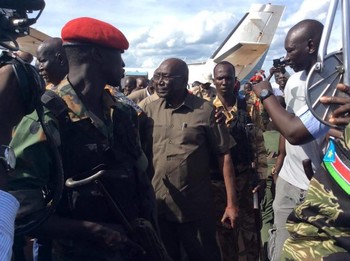 South Sudan President Salva Kiir has pardoned all army officers who left Juba with sacked army chief of staff Gen Paul Malong, Ateny Wek Ateny, the presidential press secretary, has said.
Malong was sacked last Tuesday and replaced with Gen James Ajongo Mawut.
Gen Malong would later say he was leaving Juba for his home state of Aweil. He, along with his security guards and some senior military officials, however went to Yirol Town where government officials and Dinka community leaders reportedly advised him not to rebel against Kiir but to instead return to the capital Juba.
Indeed on Saturday, Malong returned to Juba and met Kiir in a closed-door meeting on Sunday evening.
According to Ateny, Kiir had pardoned soldiers loyal to Gen Malong – otherwise they would be punished for leaving without permission from their supervisors.
"The fear for generals, brigadiers, two lieutenant canals and captain as well as the soldiers who left with Malong to Bahr al Ghazal, the president said that those who left with Gen Paul Malong, those who left with him, they are now pardoned".