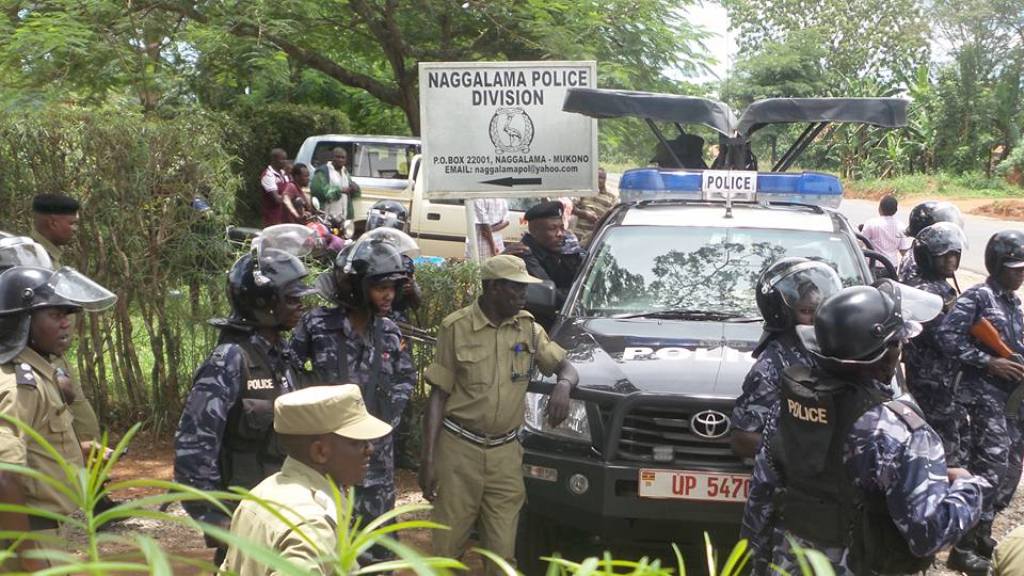 I have been detained at a number of Police Stations including but not limited to Wandegeya, Jinja Road, Central Police, Kabalagala, Soroti, and Luwero but one of the most "spectacular" was Naggalama, a cousin of Nalufenya's.
Naggalama is the place where "Crime Preventers" give orders to Police Officers.
Naggalama is the place where Danny T was arrested and charged with attempting to burn down the police station–the prosecution presented hot chapatti as defence exhibits to support their allegations.
Naggalama is the place where lights were switched off by goons wearing t-shirts inscribed with the "Crime Preventers" logo who then proceeded to rough up and assault those who, like Shawn Mubiru, Isabella Akiteng and Angella Asiimwe had come to visit us in detention.
Naggalama is the place where Kalema Shaban Senior , Timothy Kyamundu, Brian Atuheire Batenda and I were pepper sprayed while already inside the cells(!) for refusing to keep quiet about the fact that we had been locked up in the same cell with women–an outright illegality, procedural defect and risk to the women.
The man simply passed his arm through the jail bars and like you would when spraying insecticide, doused us at close range, with an inordinate amount of pepper spray. He watched us gasp for air and, half-laughing, he taunted us to keep talking with the stinging liquid burning our faces.
I remember we coughed so long and hard we had to take our shirts off to aerate. In a crowded cell, coughing didn't help much…what you coughed is what another person inhaled and what you inhaled was what another person had exhaled as they equally coughed! Yet the small ventilation was adding injury by funneling in the teargas that was being fired to chase our visitors away.
We had been arrested for convening and addressing a press conference at which we condemned the simultaneous arrests of presidential candidates Kizza Besigye and Amama Mbabazi.
Unlike the standard practice, no police bond forms were issued upon our release. As such, our detention didn't happen, by official accounts.
Our names were yelled out by a faceless voice that bellowed across the station's corridors, the massive wrought-iron doors were clanged open and we were simply told to collect our personal items and go.
Just like that. Go. Please don't ask us why and for what offence you were arrested. The orders came from above and we only enforced them. We have now been asked to release you. Please go before the journalists arrive, a clearly exasperated and motherly looking police officer pleaded.
The reliable Nicholas Opiyo calmly and expertly managed the discussion and led us out of that notorious jailhouse. A friend who had heard about our release bought tickets and invited us to the Sauti Sol concert that was going to be staged that night but I was dehydrated and still fairly dazed by the pepper spray. So I didn't make the show.
This post is pressed for time and space but would have given a longer description of the subhuman conditions under which Ugandans are detained. Standing armies of bedbugs to keep you awake all night as if the brutal cold and the ever shining mercury light bulbs aren't enough. The generic choking smell of death that punctuates these dungeons. The suppressed desperation that is written all over the faces of otherwise decent rank-and-file police officers who clearly don't approve of what is being done to detainees and suspects. I could go on.
The increasingly documented horrors of Nalufenya Torture Facility are an inkling into the terror machine that Gen Museveni leads and uses to herd Ugandans like cattle–with impunity.
In the greater scheme of things, Nalufenya and Naggalama are rivaled perhaps only by the Syrian Sednaya Prison where a psychopath called Bashar al Assad has had up to 5,000 political detainees executed in five years… But what am I saying? Hasn't our own Gen. Museveni killed an equal number or more through subtler actions which cause 19 women to die everyday during childbirth; 1,500,000 children to drop out of school every 7 years; to say nothing about the thousands that succumb to treatable infections and disease every year?!
But please don't forget Naggalama. If Nalufenya is the moon, Naggalama is Venus, close by and "shining".
Andrew Karamagi is a Kampala Lawyer