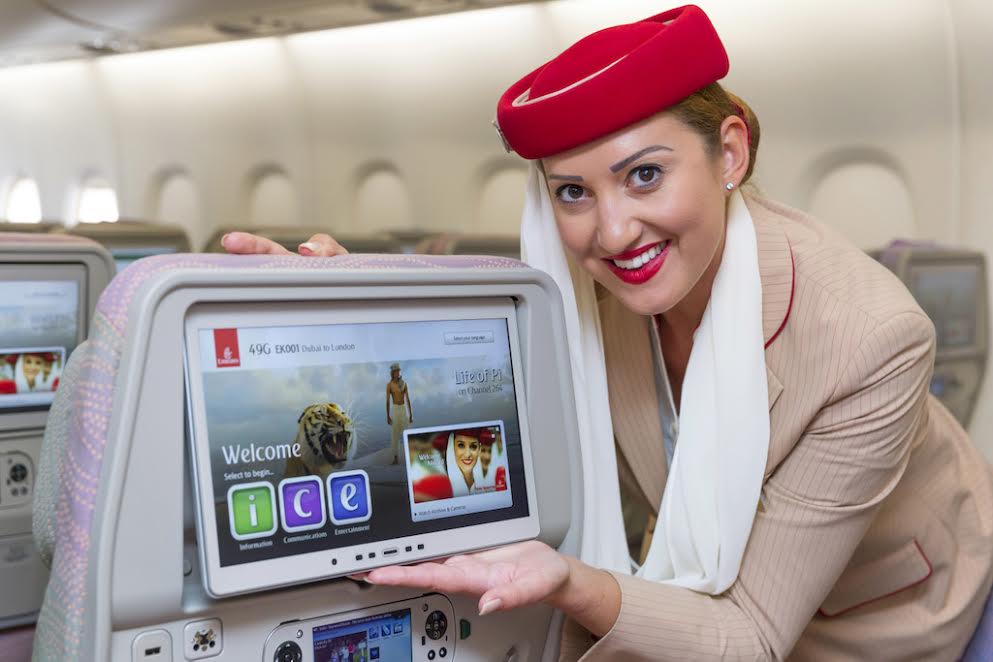 Emirates announced that it will be introducing a second daily A380 service between Dubai and Birmingham, beginning 29th October 2017.
Flight EK39/40, currently operated by a Boeing 777, will now be operated by the iconic and highly popular Emirates A380, adding to the existing daily A380 already operating on the route.
Following the suspension of one of its flights to Birmingham, Emirates has decided to operate the new A380 – the world's largest passenger aircraft, which features 615 seats. This means that from October, the airline will operate a twice-daily, all-A380 service to the Midlands.
Emirates' decision to use a double-daily A380 service was in part driven by huge demand from passengers to travel on the iconic aircraft. Since the first A380 service from Dubai to Birmingham launched on 27th March 2016, over 300,000 passengers have already flown on the aircraft between the two cities.
The A380's popularity is partly due to the fact that it features the widest individual in-seat Economy Class screens in the industry, measuring in at 13.3 inches and offers over 2,500 channels on inflight entertainment system, ice. As with the current A380 used on the route, the aircraft will operate in a two class configuration, featuring 58 flat-bed seats in Business Class and 557 spacious seats in Economy Class, as well as Emirates' popular Onboard Lounge.
And with Emirates offering A380 services to a number of key destinations in the East such as Auckland, Bangkok, Beijing, Perth, Singapore and Sydney, passengers travelling beyond Dubai have an increased opportunity to fly on the A380 on both legs of their journey, experiencing all the benefits that it offers. As with the current service, travelers also enjoy connectivity to Emirates' wide network of 31 destinations in the Indian Subcontinent and Africa.
In 2016 alone, Emirates launched new passenger services to places including Cebu and Clark in the Philippines, Yinchuan and Zhengzhou in mainland China, Yangon in Myanmar and Hanoi in Vietnam. On 1st July 2017, Emirates will also start flying daily to Phnom Penh, Cambodia.
Emirates started flying to Birmingham on 18 December 2000 as a daily service to Dubai, operated by a 278-seat Airbus A330. Since then, Emirates has carried over 5.2 million passengers between Dubai and Birmingham. An important segment on this route are the international students who travel to Birmingham every year to attend its prestigious schools and universities.
Emirates' flight EK39 departs from Dubai at 07:25hrs and arrives in Birmingham at 11:25hrs. The outbound flight, EK40, departs from Birmingham at 13:30hrs and arrives in Dubai at 00:35hrs the following day.
Birmingham is packed with cultural attractions, from historic sites such as the Grade I listed Jacobean mansion Aston Hall, to Villa Park – home of Aston Villa Football Club, and Cadbury World. Travelers can also enjoy the world-class acoustics of Symphony Hall and the Birmingham Royal Ballet at the Hippodrome Theatre.
It also has acres of green spaces and miles of rejuvenated canals leading to the stunning new Library of Birmingham and the modernist structure of the Selfridges building at the iconic Bullring shopping center.
In fact, Birmingham is known for its world-class shopping, with an eclectic retail scene that ranges from the renowned Jewellery Quarter to its exclusive mall, The Mailbox. Another point of interest are medieval villages spread across the rolling hills of the Cotswolds.
Birmingham is also a great foodie destination with a diverse dining scene that reflects the city's cosmopolitan population; there's everything from Michelin-starred restaurants to a vibrant street-food culture.
Emirates' codeshare agreement with Flybe enables passengers to seamlessly connect to cities such as Edinburgh, Aberdeen, Guernsey, Isle of Man, Jersey and Newquay. All codeshare flights operated by Flybe connect with Emirates flights from Dubai to Manchester, Glasgow and Birmingham.
This year, Emirates was recognised as the 'Best Airline in the World' at the TripAdvisor Travellers' Choice Awards for airlines. The award was based on thousands of reviews Emirates received from the TripAdvisor community over the past twelve months. Emirates was the most positively reviewed airline in the industry over that period of time.
Passengers travelling in Business Class also enjoy access to a dedicated lounge at Birmingham Airport as well as Emirates' convenient Chauffeur-drive service to and from the airport within a 70 mile radius.