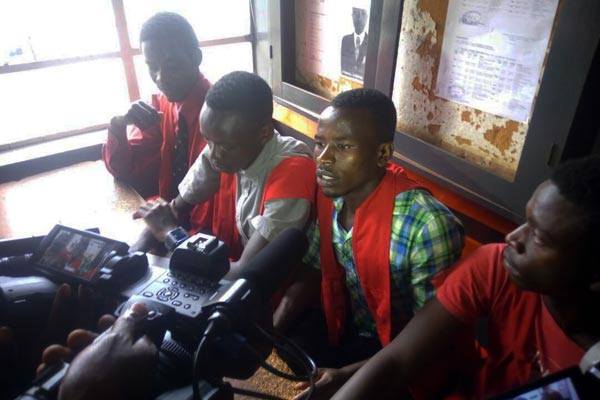 Remanded Makerere University Students have petitioned the Buganda Road Court Chief Magistrate, James Eremye over what they referred to as Judicial Misconduct by Magistrate Gladys Kamasanyu.
The four, including Edmond Kahiigi, Stephen Ariho, Roy Rugumayo and Hannington Mugarura who are accused of inciting violence have been denied bail twice, an act they claim is injudicious and improper.
They were arrested on Wednesday May 10th while protesting against the detention of Makerere Research fellow, Dr. Stella Nyanzi whose bail hearing had been dragging for close two months.
Through their lawyers of centre for Leagal Aid, led by Isaac Ssemakadde, the students claim that Magistrate Kamasanyu has denied them "an opportunity to be released on bail for reasons that are unlawful, improper and irregular, contrary to the duty imposed on the trial court" by the constitution.
According to Ssemakadde, the quartet first applied for bail hearing but Kamasanyu claimed that it was late (4:00pm) for the hearing, remanding them to Luzira until Monday May 22nd.
On Monday, Ssemakadde said, the magistrate appeared in court two hours late giving "no apology or explanation to the accused or their sureties who had attended court promptly, anxious to be heard on the suspended bail application."
"She then refused to entertain the accused's bail application merely because state had requested for commencement of trial," wrote Ssemakadde in the petition.
The magistrate would later cast blame on the errors and lapses of their former counsel who according to Ssemakadde, abandoned them without explanation.
"All these factors combined gave the accused and their sureties the impression that the learned magistrate was perhaps receiving orders from elsewhere to determine their case only in consonance to what the state wants."
Ssemakadde has since requested the Chief Magistrate to "call for and examine record of the impugned proceedings with a view to reallocate the case to another magistrate who can deal with it impartially."
The accused who are all students are about to start their end of semester examinations.
They are slated to return to court on Wednesday May 24th.