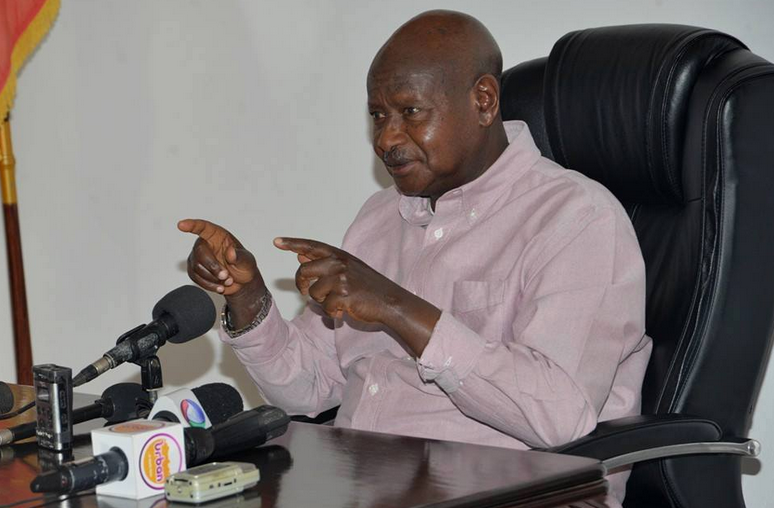 Uganda's three-decade president Yoweri Museveni has said his ruling National Resistance Movement (NRM) party rebel MPs cannot threaten the majority of the MPs supporting the controversial Age Limit Amendment Bill 2017.
Museveni spoke during Friday's NRM caucus in Kampala as his party's MPs met to chart a plan on how to handle consultations on the proposed amendment.
Sponsored by Igara West MP Rapahel Magyezi, the bill seeks to, among other issues, delete article 102b of the constitution that bars anyone over the age of 75 to stand for president, the bill remains largely unpopular – at least juding by an Afrobarometer Poll, age limit protests, and the hostility with which its supporters have been greeted with.
Government chief whip Ruth Nankabirwa first pinned the rebel MPs – Theodore Ssekikubo (Lwemiyaga), Mohammad Nsereko (Kampala Central), Barnabas Tinkasimiire (Buwaga West), Wilfred Nuwagaba (Ndorwa East), John Baptist Nambeshe (Manjiya County), Gaffa Mbwatekamwa (Kasambya County), Patrick Nsamba (Kassanda County), Sylvia Rwabwogo (Kabarole District) and James Acidiri (Maracha East) – for their "treachery" – exhibiting "treacherous behavior including issuing threats to fellow NRM MPs'.
Museveni then backed Nankabirwa, further accusing the rebel MPs of calling others criminals.
"Their issues are in bad faith. When somebody is treating party colleagues as if they are criminals, going on the radio, telling lies about colleagues, inciting violence using social media; that is not something to gloss over," Museveni said.
"If you disagree with something and come out to say you are not yet convinced, that is a decent way and matter of opinion."
To further show his anger against the rebel MPs, Museveni also referred to an recent incident in which the elite Special Forces Command (SFC) soldiers were called in to eject 24 opposition MPs after they defied speaker Rebecca Kadaga's order to vacate for singing down Magyezi's age limit motion.
"We had to bring security forces in Parliament because these people were defying the Speaker. And now you make common cause with the kind of people that were threatening to kill others and their families?" Museveni said.
The president further described the rebel MPs' plans as "enemy actions", further asking them who they thought they were to intimidate others.
"This is not disagreeing. This is enemy actions. Who are you to threaten us? Disagreement should be done through discussion."