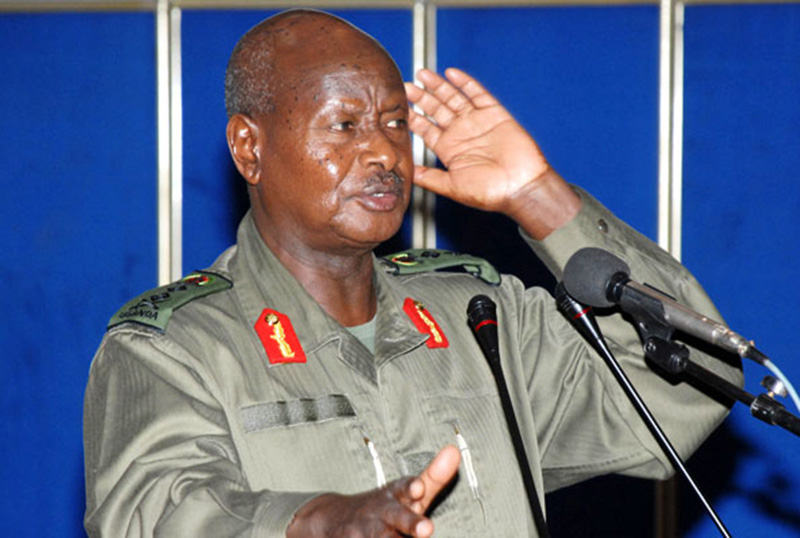 Uganda's three-decade president Yoweri Museveni has compared opposition politicians planning violence over age limit to dogs hunting elephants, vowing to crush them.
Last week, Museveni endorsed the age limit bill fronted by Igara West MP Raphael Magyezi to delete the upper age limit of 75 years in the country's constitution to allow Museveni stand for president in 2021 – and extend his 35-year rule.
The age limit removal bill remains largely unpopular – at least by an Afrobarometer and judging by the hostility the population greeted its supporters with.
The list of MPs that have been treated with hostility is growing – it includes Simeo Nsubuga (Kassanda South), James Kakooza (Kabula), Isaac Musumba (Buzaaya),  Ibrahim Abiriga (Arua Municipality), Judith Nabakooba (Mityana Woman), Doreen Amule (Amolatar), Connie Nakayenze Galiwango (Mbale Woman) and Godfrey Kiwanda Ssuubi (Mityana North).
Previously there were protests by university students and opposition politicians as well as by opposition MPs.
Last month, Special Forces Command (SFC) officers forcefully ejected at least 24 MPs who had defied speaker Rebecca Kadaga's orders to vacate after she suspended them for singing down Magyezi's motion a day before.
Now, Museveni has reminded the opposition that the NRM will – as it has done before – crush protests.
"I want to warn all those who are threatening people, akabwa akasiru kayigga enjovu [a stupid dog hunts down an elephant]… to think that you can threaten NRM, and you use violence, yet NRM is the master of violence but our violence is disciplined and purposeful," Museveni said while officiating at Namutumba Woman MP Mariam Naigaga's thanksgiving ceremony on Monday.
Museveni, who took power after a five-year war that claimed hundreds of thousands of lives, emphasized that government would not hesitate to use violence.
"I will really want to advise anybody who has got illusions that he can use violence and shut up [our people]; we shall not waste time."
Additional Reporting: Courtesy
Comments
comments