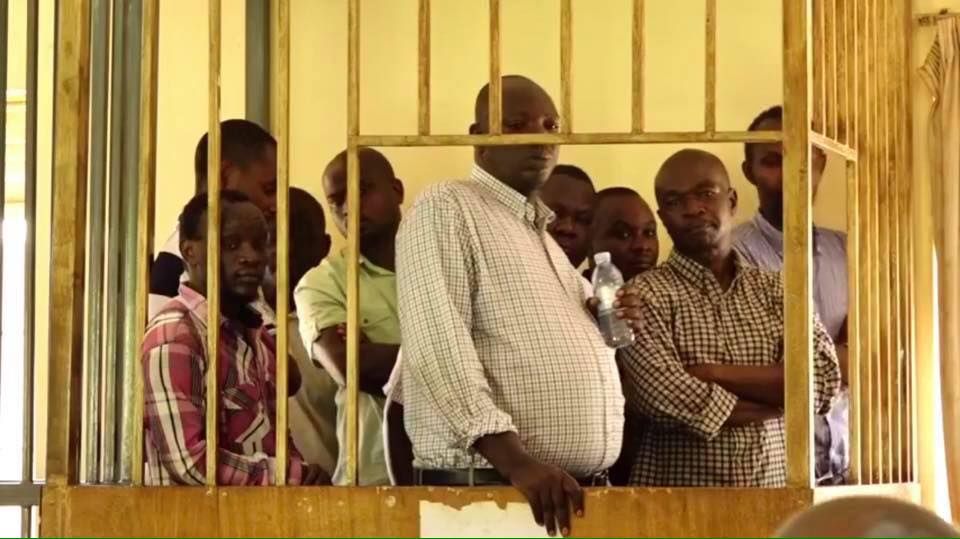 Police officers charged Friday with abducting Rwandan president Paul Kagame's body guard Lt Joel Mutabazi have claimed they were tortured to implicate Uganda's police chief Gen Kale Kayihura.
The nine, including seven police officers — former Special Operations Unit commander Nixon Agasirwe, ex- Commandant of Professional Standard Unit Joel Aguma, Sgt Abel Tumukunde and Faisal Katende of the Flying Squad, and Magada of Crime Intelligence – have been charged with abducting of Mutabazi and Jackson Kalemera on October 25, 2013 while at at Kammengo in Mpigi district along Masaka Road.
But their lawyer Caleb Alaka to reporters at Makindye in Kampala that his clients were tortured to make them make false confessions.
The officers were arrested earlier in the week by the Chieftaincy of Military Intelligence (CMI) and detained at the Makindye Military Barracks.
"While in detention, the investigators did everything within their means to ensure that these people implicated IGP Kale Kayihura,"Alaka told reporters.
"These charges are absolutely frivolous and the intention has come out because these people say the Director of CMI coerced them to implicate Gen.Kale Kayihura."
Alaka further argued that the police officers have never been in contact with the Congolese and Rwandan suspect they have been charged with, for reportedly weaving a scheme to kidnap Mutabazi.
The suspects have since been remanded to Luzira and Kigo Prisons after they declined to take plea, questioning the jurisdiction of the Court Martial to try them.
They will return to court on November 27.
Comments
comments