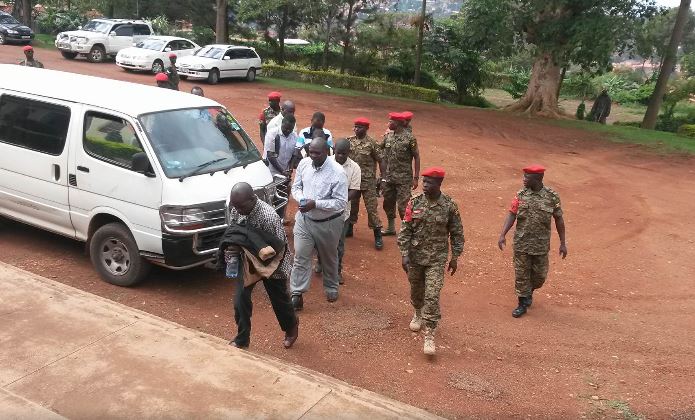 Nine senior Uganda Police officers have been charged with the abduction of a former body guard to Rwandan president Paul Kagame.
Lt Joel Mutabazi, was on October 25, 2013 while at at Kammengo in Mpigi district along Masaka Road abducted alongside Jackson Kalemera and taken to Rwanda, prosecution alleged.
The nine police officers – including former Special Operations Unit commander Nixon Agasirwe, ex- Commandant of  Professional Standard Unit Joel Aguma, Sgt Abel Tumukunde and Faisal Katende of the Flying Squad, and Magada of Crime Intelligence – have been charged with abducting of Mutabazi, at the Makindye Court Martial.
The suspects were represented by lawyers Caleb Alaka and Evans Ochieng.
They refused to take plea, poking holes in the jurisdiction of a military court to try them.
Arrested earlier in the week by the Chieftaincy of Military Intelligence (CMI) and detained at the Makindye Military barracks, the suspects also complained of torture.
They have been advised to file a formal application to the High court for redress.
Hearing of the matter has been adjourned to November 27.
The General Court Martial Chairman Lt Gen Andrew Gutti remanded the suspects to Kigo and Luzira prisons.
Photo: Courtesy
Comments
comments