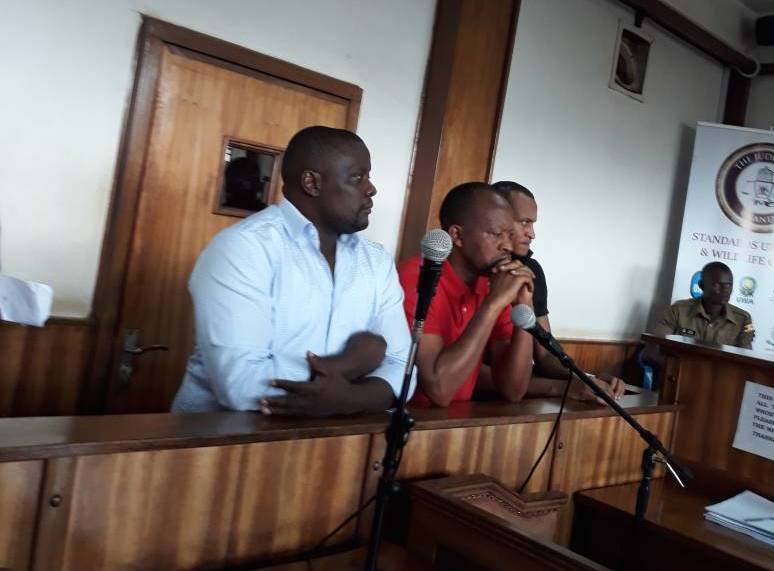 Sisimuka Uganda boss and political commentator Frank Gashumba and his brother Innocent Kasumba have Monday been charged with Forgery, Impersonation and Possession of Drugs.
The two were read the charges while appearing at Buganda Road Chief Magistrates Court in Kampala before being released on a Shs 20 million Non-cash bail each.
The state accuses Gashumba, his brother Kasumba of unlawful possession of nartcotic drugs suspected to be marijuana.
The duo are also accused of forgery contrary to section 342 and 347 of the Penal Code Act after they were found with forged Ministry of Defence and Veterans Affairs identification cards, as well as forged stamps of South Sudan's Ministry of Finance and Economic Planning, Ministry of Agriculture and Forestry.
Buganda Road Chief Magistrate James Eremye Mawanda only read Gashumba, 43 and Kasumba, 30, the charges, explaining that they would take plea when prosecutors reappear in court.
Gashumba was stood surety by Kalungu MP Sewungu Joseph Gozanga, former Kalungu District Chairperson Musoke Emmanuel and city businessman John Kigozi Ssebagala, while his co-accused also presented 3 sureties who court found substantial.
The duo are expected to reappear in court on Monday, 20th November 2017.
Gashumba and his brother were arrested on Monday last week and his home searched Tuesday, with the Chieftaincy of Military Intelligence (CMI) saying illegal documents and drugs were recovered. They were later detained at the Police Special Investigations Unit (SIU) in Kireka.
UPDF deputy spokesperson Lt Deo Akiiki told reporters last week at Ministry of Defence headquarters in Mbuya that CMI had acted on a tip off.
"Under the cover of a company named Flagship group purported to be contract by the Ministry of Defence for out sourcing, Gashumba and two others had invited investors to Golden Tulip hotel in Nakasero for a meeting over a deal to supply UPDF with hundreds of military trucks," Akiiki said.
Comments
comments