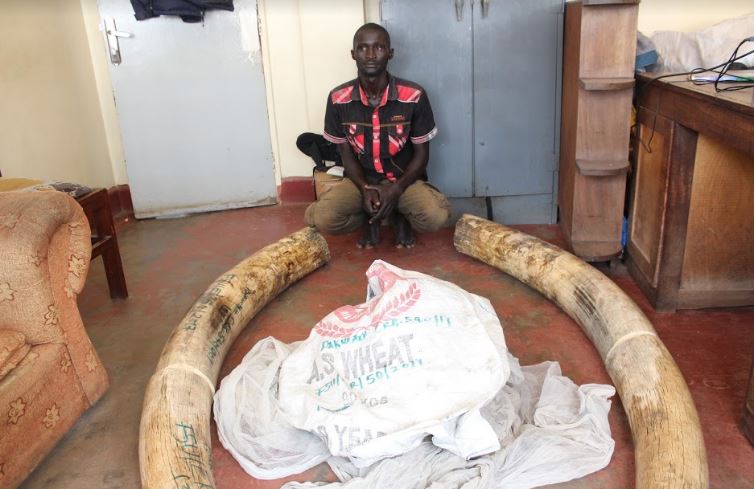 Police in Packwach District has arrested and detained a 26-year-old man for involvement in animal trafficking and selling animal trophies.
Edwin Opunya was arrested in an operation mounted by Police and the Natural Resources Conservation Network (NRCN)
Opunya, Acholi by tribe was found in possession of 4 pieces of ivory, weighing 150kgs and worth Shs 60 million
He has been transferred from Pakwach to Central Police station Kampala for further interrogations and arraignment at the wildlife court on Buganda Road.
Opunya is a farm manager at the Farm of Gen. Otema Awany and is also General's nephew.
Upon his arrest, he admitted that he owned the ivory and had stored it at the farm of the general without his (Gen.) notice.
According to Opunya, he got the ivory from Nwoya district and transferred it to Pakwach as he looked for market. He intended to sell at 300,000 Uganda Shillings per kilogram.
He says he has had this ivory for a period of 4 months now and it's not his first time to deal in ivory as he had been in the business for one year now.
According to Opunya, Gen. Otema is not aware of his dealings in ivory and his involvement in the wildlife trade.
Opunya, is a professional veterinary officer says that his exposure to animals broadened his knowledge of ivory and that's when he started looking for it.
According to the Natural Resource Conservation Network Legal Advisor Winnie Namayenje, the
aggravating factor is; – Concealing the contraband in polythene sacks
He was charged with unlawful possession of a protected species contrary to Sections 30 and 75 (b) of the Uganda Wildlife Act CAP 200 which provides for the offence of unlawful possession of protected species.
The punishment is a fine of not less than 1m or not more than 5 years imprisonment and in any case the fine must be not less than the value of the wildlife product involved.
Comments
comments