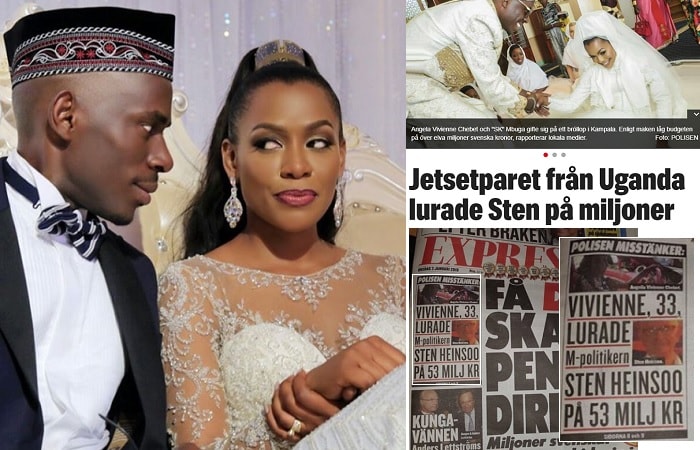 Ugandan socialite and tycoon Sulaiman Kabangala (SK) Mbuga and his wife Angella Vivienne are wanted in Sweden over fraud, The Tower Post has learnt.
According to Swedish newspaper Expressen, the couple conned a Swedish politician Sten Heinsoo of Swedish krona 53 million (about Shs 23 billion).
Sten Heinsoo revealed that the money had disappeared abroad when he tried to help a female friend to transport gold from Uganda to Sweden.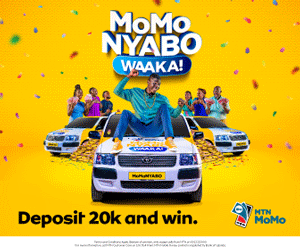 Suspicions according to Expressen have led the police to "one of Uganda's most famous jet races – property mogul Sulaiman "SK" Mbuga, 34, and his wife Angella Vivienne Chebet, 33."
What makes the matter more interesting is that the SEV 53 million did not belong to Sten Heinsoo as he was just a trustee of the money owned by his former employer, Einar Matsson's owner family.
Last week, Sten Heinsoo was charged with gross negligence against the principal.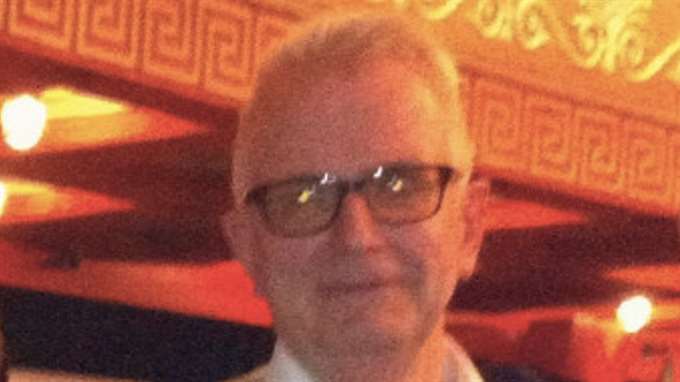 Even Chebet – a Swedish citizen for a few years – was charged with the Stockholm District Court for several cases of gross fraud against Heinsoo.
SK Mbuga has previously been detained in probation for probable reasons suspected of the same crime.
In total, it amounts to SEK 53 million that Heinsoo transferred to accounts in Uganda.
In Uganda SK Mbuga has made a name for himself as one of the richest and generous tycoons, owning a palatial home in the Kampala surburb of Buziga and a fleet of posh cars including Hammers, a Jeep Grand Cherokee SR8, Range Rover Sport SUVs, Mercedes Benzes and BMW vehicles among other; but his source of money remains unknown.
In 2016, Mbuga and Vivienne got married in Kampala in a giant wedding that cost over Shs 3 billion.
The wedding is said to have taken place two weeks after Sten Heinsoo sent the last installment of the money to Uganda in November 2016.
Thousands of guests attended the event and in advance a Rolls-Royce Phantom and Uganda's first Ferrari had been purchased as "wedding cars".
Vivienne Chebet  according to Expressen immigrated to Sweden from Uganda in 2011 and has residing in the Stockholm area since then.
In an early hearing, Sten Heinsoo revealed us that the two met in the church when she worked as a personal assistant, and eventually led it to a relationship where they "fellowshiped".
Mbuga and Vivienne are suspected to have started the fraud in 2015.
In interrogation, Heinsoo revealed that Vivienne had told him how her wealthy father in Uganda had died and left behind a large gold heritage – which was both difficult and costly to transport to Sweden. Heinsoo offered to help economically.
Vivienne who Expressen refers to as 'Chebet', traveled to Uganda on the pretext that she would arrange for the on-site logistics.
Meanwhile in Uganda she lived a glamorous life, while Sten Heinsoo always paid new money.
She sent text messages to Heinsoo where she declared she was missing and loved him.
"Hello my dear husband," she wrote in an SMS, apparent from the lawsuit.
When Heinsoo was released at the end of the milestone, he admitted that he had been tricked.
Prosecutor Mathias Lidberg did not want to comment on what efforts are being made for the couple to be brought to justice in Sweden, but he says:
"In this case there is a person who is prosecuted. Then it is, of course, important to get that person brought to trial in Sweden. And if someone is detained in utevaro for probable reasons, you will definitely want to get that person."
Vivienne denies crimes, announces her lawyer. The husband's attitude is unknown because he had never been given any suspicions.
Attorney Carl Järnberg says that Sten Heinsoo's previous information remains, but refuses to comment further before the trial.
Attorney Björn Riese represents the three Einar Mattsson owners.
– The lost money is still outstanding. We will now go through the preliminary investigation and understand what the prosecutor has achieved, "he says.
Sten Heinsoo, 71, has been employed by Einar Mattsson for several decades, many of whom have been financial director. He had retired but still had a role as "senior advisor", with the mandate to move large sums of money.
He explained to the police that he wanted to help a female acquaintance who claimed that she had inherited a large party of gold in Uganda. Transporting the inheritance to Sweden was associated with high costs, which Heinsoo offered to help with.
The woman traveled to Uganda, with the motivation that it would be easier to work on transport on site. On the woman's and couriers 'Mr Edwards' and 'Mr Mohammed' directives he paid in a number of rounds about 50 million kronor on a foreign account.
When the police held the first hearing, Heinsoo believed that the gold was in New York and would soon be transported to Stockholm by diplomatic flight.
SK Mbuga and Vivienne, who are currently not in Sweden, are at large.
Sweden has no extradition agreement with Uganda. However, Sweden court has sent a request of legal assistance to arrest and try the two.
We shall keep you posted on any new developments.
Comments
comments