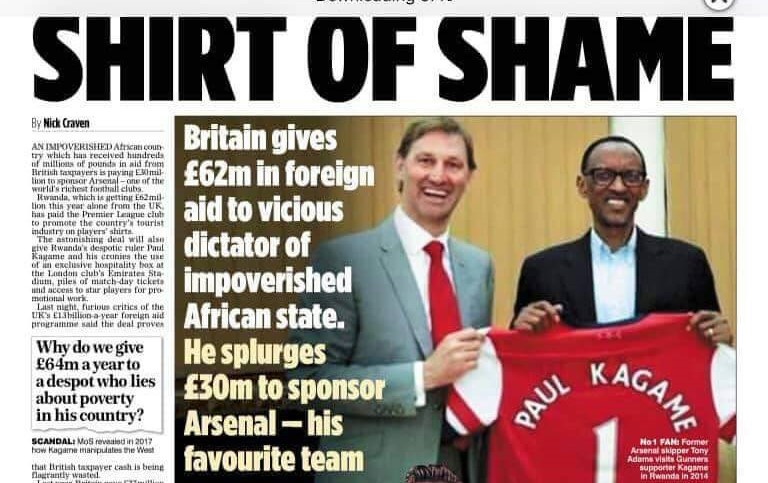 Rwandan President Paul Kagame is under fire over the recent deal between the small East African State and English Premier League giant Arsenal to promote tourism.
In the deal which was completed and announced last week, Rwanda will pay a whopping £30 million (Approx. Shs150b) to Arsenal in order to have its tourism logo emblazoned across players' sleeves next three years.
Rwandan government argued that the deal is part of a larger drive to increase the tourism revenue Rwanda gets each year.
But the deal has since come under heavy criticism from British press, politicians, Rwandans living in Britain and a number of other activists.
British newspaper, Daily Mail referred to the shirt handed to Paul Kagame during the unveiling as a "shirt of shame" saying "…an impoverished African country [Rwanda] which has received hundreds of millions of pounds in aid from British taxpayers is paying £30 million to sponsor Arsenal – one of the world's richest football clubs."
The Tower Post understands that Rwanda is getting a total of £62 million this year alone from Britain. This makes the sum paid to Arsenal almost half of the money they are getting in aid.
British MP Andrew Bridgen described the deal as 'an own goal for foreign aid.'
"British taxpayers will be rightly shocked to learn that a country supported by huge handouts from the UK is in turn pumping millions into a fabulously rich football club in London. It's ludicrous," Bridgen reportedly told Daily Mail.
"If this isn't a perfect own goal for foreign aid, I don't know what is. It serves to expose the complete idiocy this system is based on."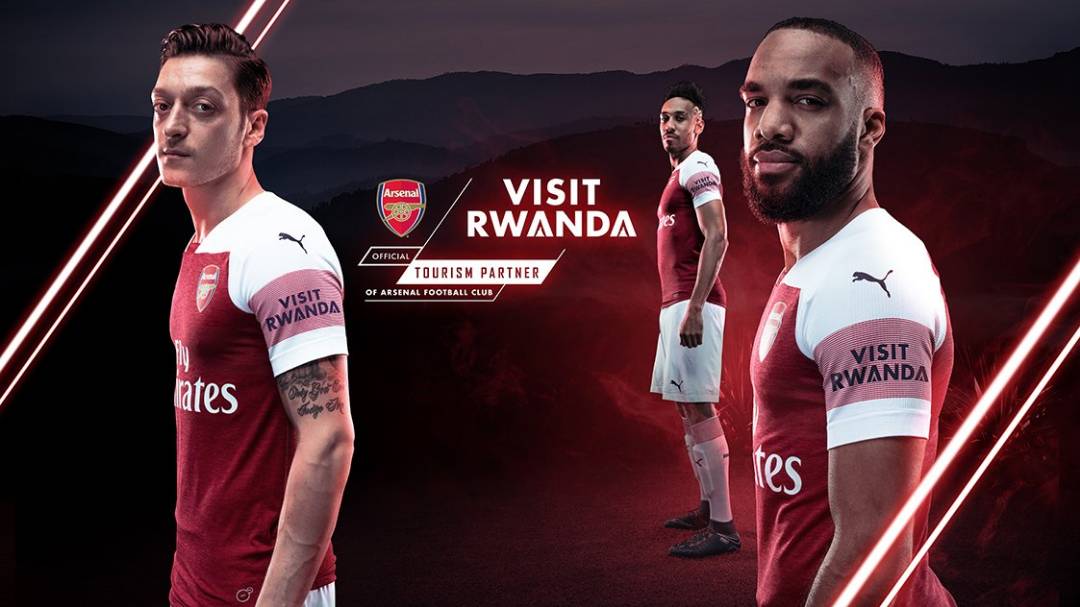 Rene Mugenzi, a renowned Rwandan rights activist faulted Arsenal Management for accepting the deal.
Speaking to Daily Mail, Mugenzi said, "It is hard to believe that Arsenal really conducted due diligence on this obscene deal, and they should scrap it.
"How can a country which receives tens of millions of UK aid start spending money on a football club in London, just because the president supports them?
"Britain should stop giving money to Rwanda because it just frees up their government to spend money on crazy things like this."
Mugenzi and President Kagame have been at loggerheads for quite a long time with the latter accusing Mugenzi of Genocide denial.
Mugenzi also accuses Kagame of masterminding a plan to have him killed, one which he says still stands. This thus explains his self-imposed exile in Britain.
Rwandan Government Speaks Out
In a statement sent to The Tower Post on Saturday May 26th, the Rwanda Development Board (RDB) stated that; "the Arsenal Football Club partnership is part of Rwanda's long-term tourism development and conservation strategy that is grounded in Vision 2050."
Currently, Rwanda earns USD404 million from tourism annually and according to RDB, the country foresees doubling that figure to USD800million annually by 2024.
"This ambitious goal is only possible by marketing Rwanda as a tourist destination in innovative ways.
"The Arsenal Football Club partnership is one of the many ways that Rwanda has chosen to position the destination into the hearts and minds of prospective visitors and as such part of our tourism receipts are ploughed back to support such marketing efforts," RDB further wrote.