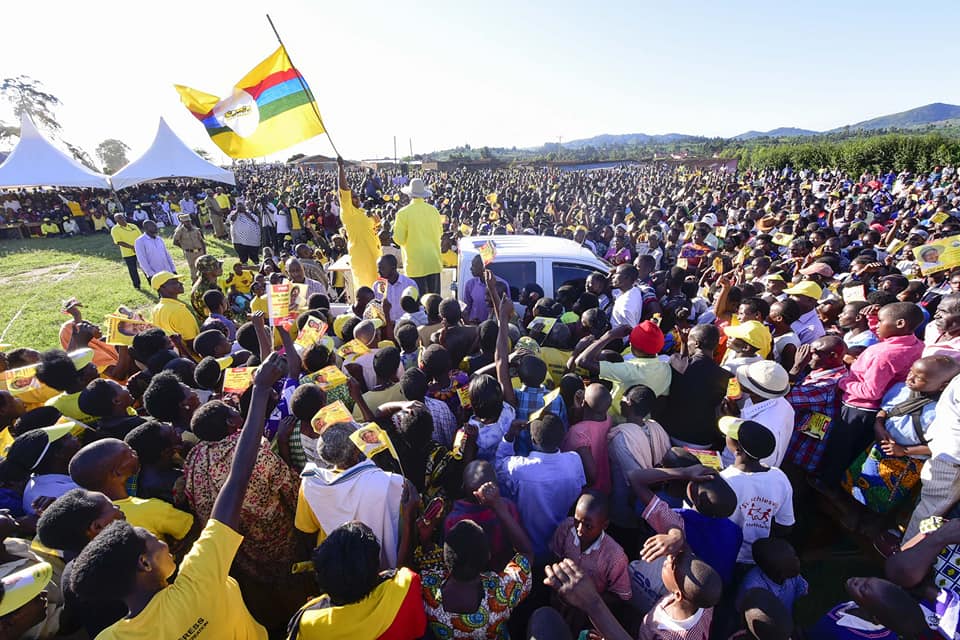 President Yoweri Museveni has started canvassing for votes for the National Resistance Movement flag bearer, Winfred Matsiko Komuhangi, in the by-elections for the Women Parliamentary seat for Rukungiri District, South Western Region.
Museveni who is the National Chairman of the NRM addressed 4 Movement supporters' rallies in Nyakishenyi, Nyarushanje, Buyanja and Kebisoni Sub-Counties in Rubabo County on Monday, and asked the voters to send him leaders that will work with him to support Government programmes that will benefit the people of Rukungiri District.

The Court of Appeal declared the Rukungiri Woman Seat vacant recently on grounds that the 2016 elections were marred by irregularities.
NRM's Matsiko Komuhangi is tussling it out with opposition FDC's Betty Muzanira and independents Prisca Seezi Mbaguta, Elizabeth Rwakutonera, Sheila Atukunda Kirebete and PPP's Fabith Kukundakwe.
Museveni urged the people of Rukungiri District to support Ms. Winfred Matsiko Komuhangi in the by-election that is slated for 31stMay 2018.
He outlined the achievements of the Movement and urged the wananchi support NRM candidates at all levels of elections.
"The government has built schools, roads, provided safe water supply and electricity at the national level. With these indicators be assured that alongside the construction of Rukungiri, Kihihi, Kanungu, Ishasha, Kambuga-Rugyeyo through Nyakishenyi to Kisiizi Rubaaare road will be constructed in government budget," he said.
The President said that under the NRM Government, Rukungiri district has registered numerous achievements adding that it has 248 primary schools, 171 of them are government aided and 110 are private. There are 44 secondary schools with 23 being government aided and 21 privately owned.
"With the prevailing peace, infrastructural development, I need leaders who are supportive to government development programmes," he said.
The President told the people of Rubabo County in particular and Rukungiri in general that "the Opposition, FDC have divergent and wrong ideas for the country."
Museveni reminded the people that poverty has no such thing like boundary based on tribal, religious inclinations.
He encouraged them to operationalize the government advice on the four acre model of agricultural projection and produce fruits, engage in piggery, poultry, fish farming and zero grazing especially for those on a small piece of land so that they are empowered to eradicating  household poverty.
Other NRM supporters in the area who are with President Museveni to drum up support for Winfred Matsiko Komuhangi include Chris Baryomunsi, Paula Turyahikayo and General Henry Tumukunde.
Comments
comments