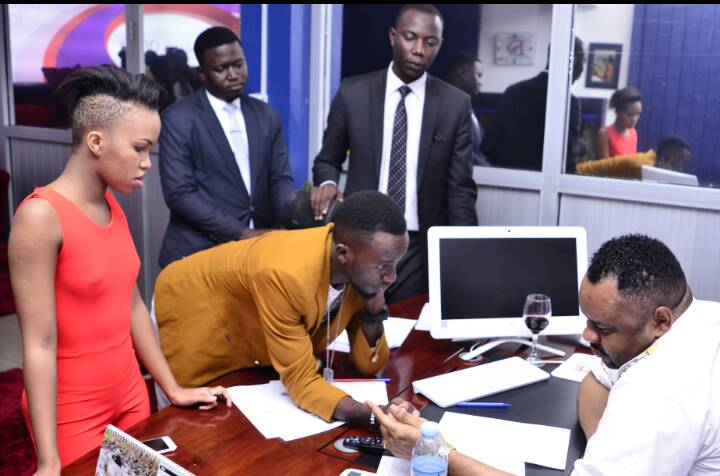 Media personality and NTV the Beat presenter, Sheila Gashumba and Local rapper Fik Fameika have been signed as ambassadors of Development Channel to promote the company's Economic War.
The duo is expected to influence their following to join this war that is aimed at improving the livelihood of the Ugandan people.

Like Sheila Gashumba, Fik Fameika promised to use their social media following to address the company's goals on Facebook, Instagram and Twitter.
Gashumba together with Fik Fameica's manager signed individual contracts to create mileage for the company. The two signed the contracts on the following terms; to share and comment what has been posted by the company and talk about the company each time they appear on TV shows.
In support of the Economic war, Gashumba said that Africa has been waiting for something like this.
The Economic war is the most influential war every African should be part of. Since there are global economic precedents that have attested to the fact that one company can lift a whole nation out of poverty, Sheila Gashumba is certain that Development Channel is here to change Africa and create a strong middle class.
"I am so grateful for this initiative and I encourage everyone to stick to my Facebook, twitter and Instagram accounts to know about this amazing company, Development channel," she said.
Fik Fameika also commended Development Channel for the initiative to transform Africa from a third world economy to a sustainable economy.
"The idea of an Economic war will benefit the common man. African citizens should see this as a golden chance; if the idea of Economic War is embraced families will have better lives."
The two signed the three months contract before Development Channel Chairman, Charles Lambert at and was witnessed by the company's lawyers Sanyu Mukama Jamil and Joel Israel Kidandaire at the company's head office in Kitintale in Luzira.
Comments
comments