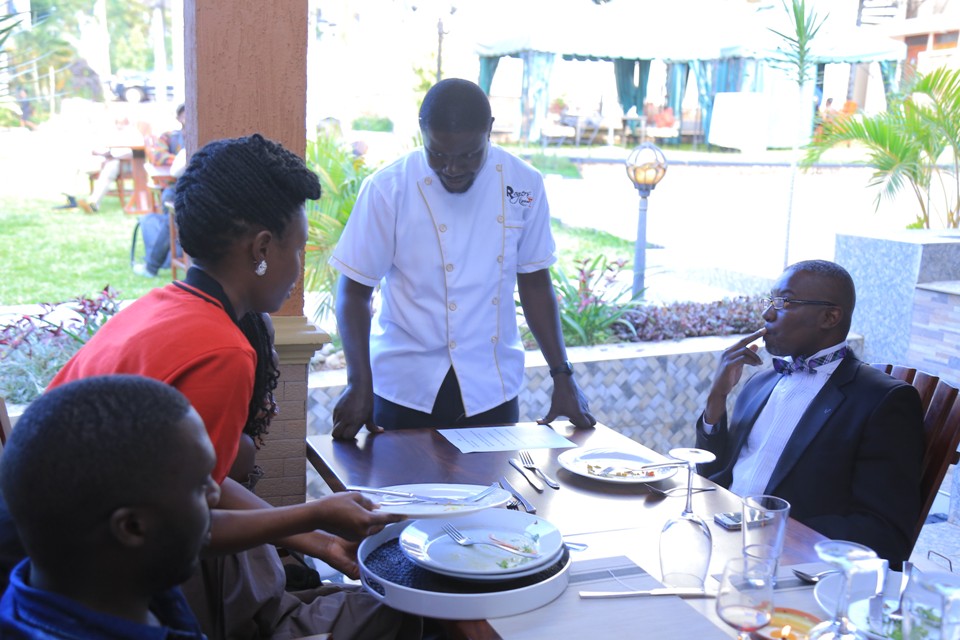 The first Edition of the Roger's Bites Fine Dining Experience went down on Sunday (July 1, 2018) at Serene Suites Hotel Mutundwe.
The event sponsored by Jesa Farm Dairy , S.W.T. RICE and Mashallah Foods, was well attended by a number of individuals, couples and families, who enjoyed an an exquisite 6-course meal with bottomless wine and other drinks in the posh environment at the Hotel.
On the menu was; Vegetable crostini with cured beef carpaccio and petite guacamole (Starter Trio), Cold chicken salad; chunks of succulent chicken tossed with lettuce and caesar sauce(Second course), Crispy fried fish with fragrant rice (Third course), Chicken roulade with champagne potatoes (Fourth course), Beef Wellington with mushroom ragout (Fifth course), Tiramisu for Dessert and the BBQ sundowner.
Many guests confessed that they enjoyed the food, which was prepared by Serene Suites Chef Roger Balamaga alias Roger Bites, the host of the event and his colleagues.
The event, which started at around 3:00PM, went on till late as guests departed at leisure.
See photos (Photos by Mutabazi Daville):