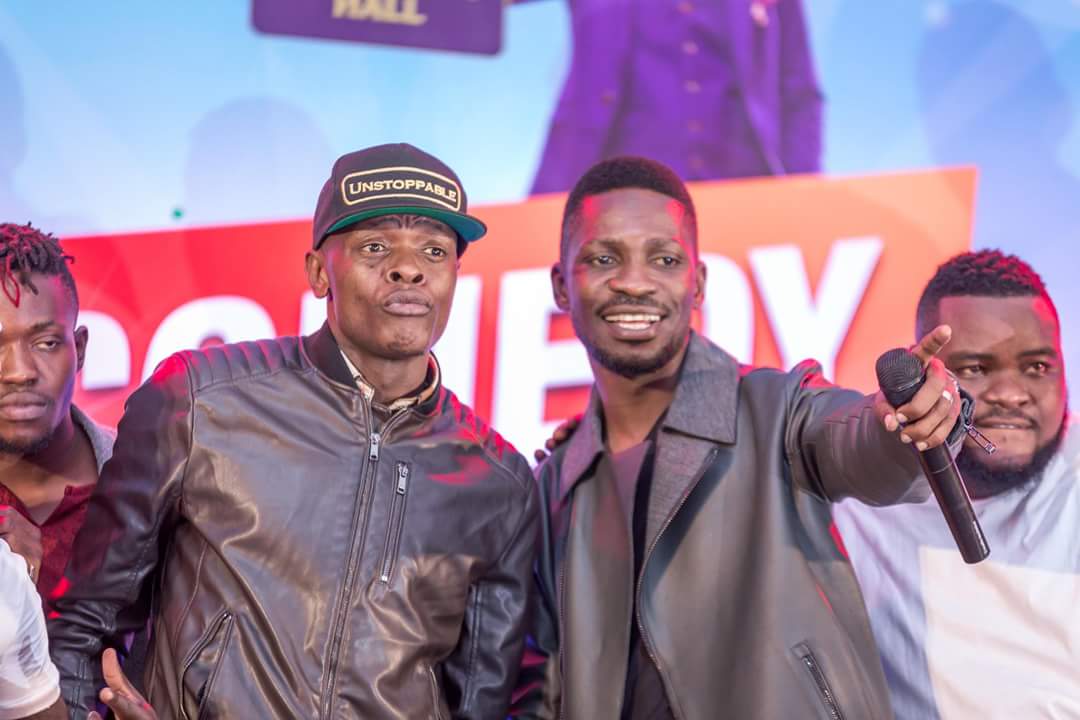 Ugandan music giant Joseph Mayanja aka Jose Chameleone has begged President Yoweri Museveni to forgive Kyadondo East MP and fellow musician Robert Kyagulanyi better known as Bobi Wine.
Bobi Wine is set to appear before Court Martial in Gulu today (Thursday 16thAugust 2018). Police claim he was found with an SMG riffle during his arrest on Monday evening, following the chaos in Arua that led to shooting of his driver.
One of the presidents lead cars was also allegedly vandalized.
In a lengthy post via Facebook, singer Chameleone begged President Museveni to pardon Bobi Wine, who now faces treason charges.
"Honourable Kyagulanyi has always collaborated with me and all of us society to free Uganda from Foreign sounds, Sell our culture beyond borders through our capital ability – Music. Bobi Wine has over time exhibited his leadership admiration. Just Like any young ambitious man, he has treaded a path of aggressiveness," part of Chameleone's open letter to Museveni reads.
"Your excellency, Our brother, Your son Bobi Wine could have gone wrong on execution of some of his ideologies. With all honour beg you the President to symbolise forgiveness in such a time. We can all wrong but better the forgiver. Mr President, You are a Father, Parent and always forgiving one. We shall all remain calm and be hopeful that the coming developments will see us all live harmoniously and have a peaceful country henceforth." Chameleone adds in the letter.
The letter has however caused mixed reactions from fans with some saying it it unnecessary because Bobi Wine did not do anything wrong by participating in a campaign rally.
"Forgiveness for what? What did Bobi do except for standing for the people! Asking for forgiveness is like accepting that all they are fabricating is true," commented a one Rhoda Mudu Mugumba.
"U don't need to apologize brother… Bobi is innocent amd he will be set free and he will be our next president by default.. Just come together as musicians and demand for his rights. U can even write to the Speaker of Parliament," said Ashburg Katto.
Nabasumba Joan said, "Forgive him for what? What did he do? This statement from you Dr seems judgmental. It's like he did something wrong yet in actual sense he didn't do anything."
Others on the other hand commended Chameleone for the brotherly gesture of asking for forgiveness on Bobi Wine's behalf.
"That's very nice of you Dr. Jose and thank you for that brothery love.God bless you, we all want the same thing to free them becouse no one derserves toture, and we need to stand together as one. Thanks again," Nakimbugwe Esther commented.
Bobi Wine and other MPs were in Arua to campaign for Independent Candidate Kassiano Wadri ahead of Wednesday's Arua Municipality MP By Election.
On Wednesday evening, Arua Electoral District returning officer Angom Ococ Ruth declared Wadri winner with after getting majority votes.
Read Jose Chameleone's full letter to President Museveni:
Letter to His Excellency President of the republic of Uganda.

Dear President,

Seeking appointment or going through protocol will not deliver my urgent letter to you.

Right now I hope we all rather can let it be a temporary political mishap per what happened in the district of Arua on Monday. Unfortunately it left you car Vandalized,Many of us inconvenienced – A soul lost, And another Ugandan,brother, Friend,Fellow singer Honourable as appointed by Kyadondo east-Robert Kyagulanyi alias Bobi Wine and many counterparts in an unfortunate situation. Honourable Kyagulanyi has always collaborated with me and all of us society to free Uganda from Foreign sounds, Sell our culture beyond borders through our capital ability – Music.

Bobi Wine has over time exhibited his leadership admiration. Just Like any young ambitious man, he has treaded a path of aggressiveness.

Your excellency, Our brother, Your son Bobi Wine could have gone wrong on execution of some of his ideologies. That's a challenge .

As head of state and forefather, It's a great one too to lead us in example of forgiveness and reconciliation as that is one of the prime problems that have hindered our society.We are so unforgiving.

I as a son of this nation on behalf of the slogan, "For God and my Country", With all honour beg you the President to symbolize forgiveness in such a time. We can all wrong but better the forgiver. Mr President, You are a Father, Parent and always forgiving one. We shall all remain calm and be hopeful that the coming developments will see us all live harmoniously and have a peaceful country henceforth.

JOHN: 8:7

Dialogue is the answer

For God and my country

Jose Chameleone.

LEONE ISLAND MUSIC EMPIRE
Comments
comments