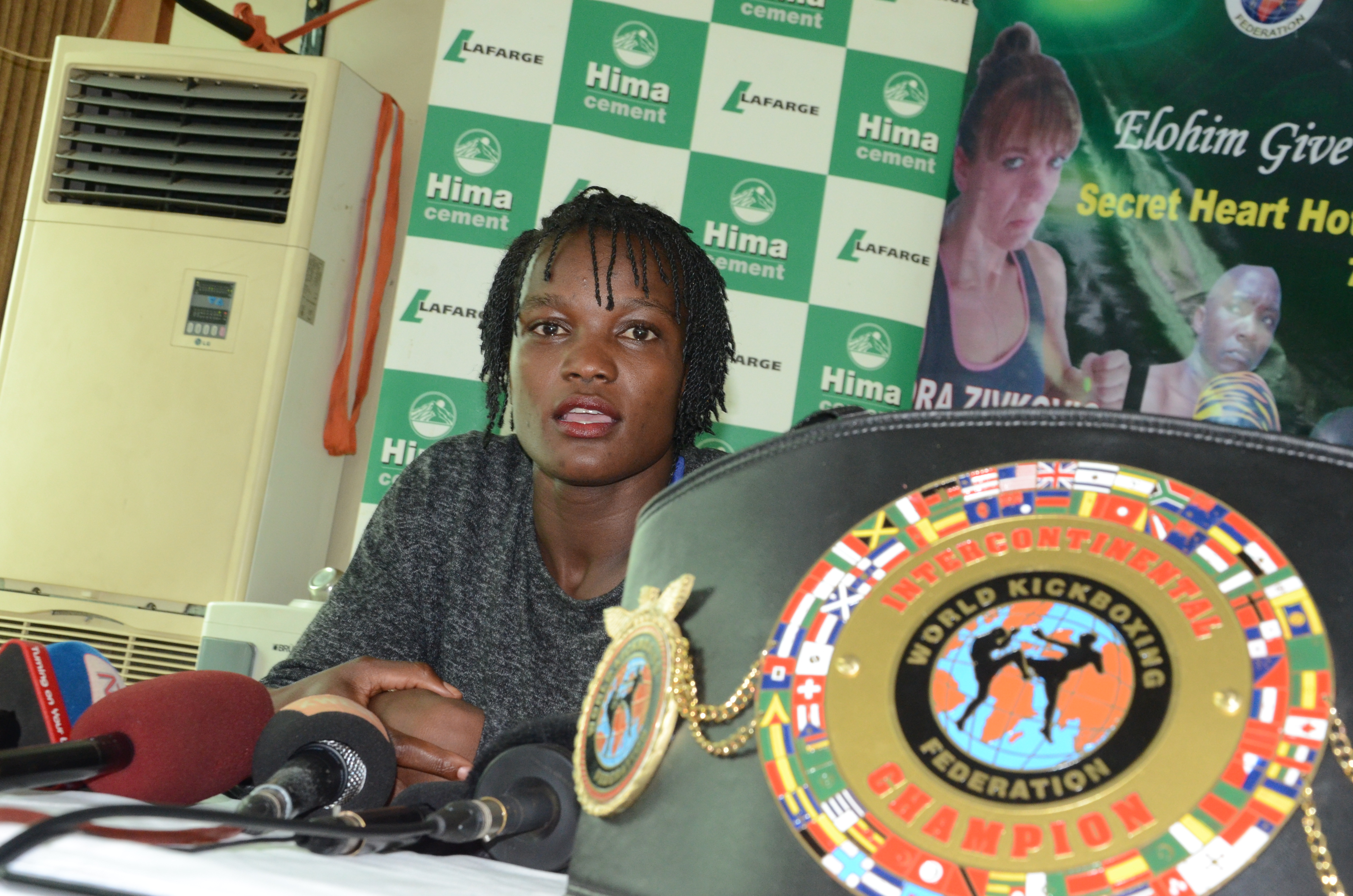 Lafarge Hima Cement has announced a UGX. 20 million sponsorship for the World Kickboxing Champion Patricia "Black Pearl" Apolot, a young very talented Ugandan female who has won various titles over the years. This is the second sponsorship that Hima Cement is extending to Ms Apolot, having been her main sponsor since 2016. Ms Apolot, who is the reigning World Kickboxing Federation International title holder, will be taking on Chiedza Homokoma in Harare Zimbabwe on August 31, a fight that she has described as the fight of her life as it welcomes her into a new season. She will also fight Sandra Zivkovic from Bosnia to defend her titles in the Elohim Give Inter-continental kick boxing title defence at Secret Heart Hotel, Kumi on September 14, 2018.
The money will go towards her training and preparation for the fights, her travel and living costs as well as her training and competition equipment.
Patricia is up against another tough fighter in Harare Zimbabwe but promises to knock out the Namibian born player in the 8 round duel.
"I am a determined fighter and I have been training well for the past couple of weeks since my last international fight in April which I also won. The two weeks period between my boxing fight and the kick boxing contest should not be an issue. I am set," Ms Apolot said.
In the domestic fight in Kumi, Patricia will face off with Sandra while Uganda's Ronald Odoch will face Bosnian opponent Marko Dmitrovic for five rounds. The fight is organized by the Black Pearl events.
Hima Cement, a primarily cement manufacturing company, wants to support budding sports talent in Uganda from the big sports like football, basketball, rugby, athletics to golf, tennis, swimming, boxing and kickboxing.
"Hima Cement has chosen to invest in the young and budding sports talent because we don't want to celebrate with you only when you are champions, we want to be with you from the start. After all, we are the cement that is part of you from the start," said Mr Charles Mugasa Hima Cement's Marketing Manager
Many Hima Cement sponsored legends and sporting clubs like Hima Cement Cement Heathens, Vipers SC have gone on to represent Uganda and return victorious. In 2016, HIMA Cement made a bold decision to sponsor Patricia and her team of three Kickboxers for the World Kickboxing Championships which took place in Hungary. Patricia and her colleague Mubiru were champions in their categories.
"This only reinvigorates our energy and commitment to support the young stars who are destined for greatness," said Mr Magasa said.
He said that Hima Cement is confident in Ms Apolot as a young talented and determined kickboxer.