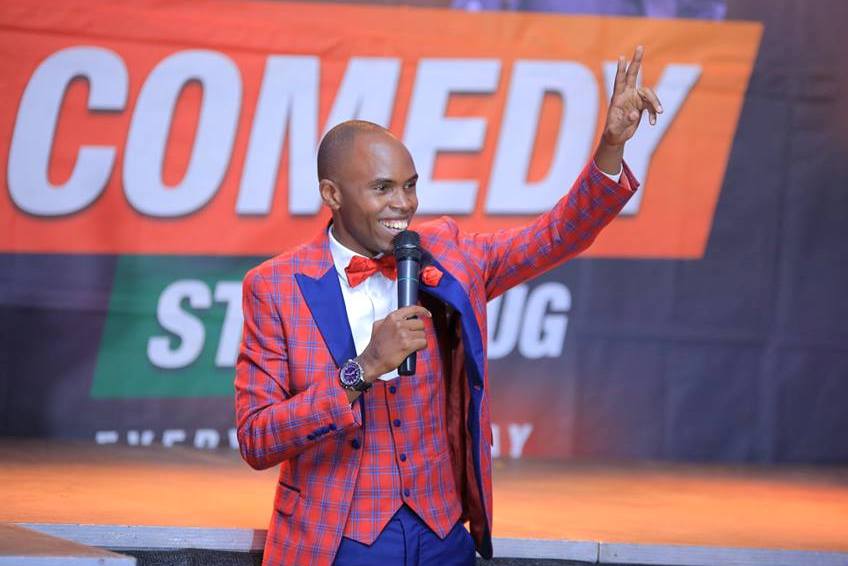 Comedy Store will for the first time extend its package of humor and entertainment to the countryside.
The comed-tainment themed show hosted by Alex Muhangi has come to be a weekly favorite for many Kampalans who seek to unwind and let go of the strain that work can be.
Now, the comedy enthusiasts in Mbarara will chance at what the organizers promise will be a thrilling show headlined by funny man MC Mariachi and female dancehall singer, Cindy. The show is scheduled for this Friday, September 21 at the Adit Mall in the heart of Mbarara.
Other acts like Tr Mpamire, Godi Godi, Akite Agnes, Kabaata, T-amale Mirundi and funny duo Snake & Zoro are also lined up for the do.
To add icing on the cake, will be two of the most popular Western Uganda based musicians – Ray G and Shine Omukiga who will be part of the entertainers. Ray G has done songs like 'Mureebe', 'Naaba Nkwine', 'Orahi' and 'Omwigarire' among others.
Comedian Alex Muhangi says he is excited that the rest of Uganda now can get to be part of the Comedy Store journey, but also have a live experience of what the comedy industry has to offer.
"This is exciting not just for me but the brand as well. We have planned for this to happen, but the time always held us back. It requires extra costs as well. Now, we get to do a couple of shows in the major towns across the country," Muhangi said.
"Some of the towns we are considering are Fort Portal, Arua, Mbale, Lira and definitely Jinja," he added.
He said that the popularity of comedy as a form of entertainment has significantly grown over
the last few years and that this isn't just in the context of Kampala.
With a day left to the d-day, organizers say there is a dash of excitement particularly for the people in Mbarara.
Tickets for the show will go for Shs 20,000 (ordinary) and Shs 400,000 (VIP table).
About Comedy Store
Comedy Store Uganda (sometimes just Comedy Store) is a weekly live stand-up comedy show that was created in 2016 by comedian Alex Muhangi, who also doubles as the host. The show is recorded on Thursdays at UMA Exhibition Hall Lugogo in Kampala and airs Tuesdays on NTV Uganda.
The maiden live show was held at Diners Lounge, Bukoto in May 2016 before the show was moved to The 400 Bar, Bukoto and to its current venue in Lugogo.
It features a live band, comedy performances and celebrity musicians' performances. Comedians from Uganda and the rest of Africa have performed at Comedy Store including Eric Omondi, Oga Obinna, Chipukeezy all from Kenya, Arthur Nkusi from Rwanda, Captain Khalid from Tanzania and many others.
Comments
comments