Uganda's army has arrested and tried five men who brutally arrested Democratic Party (DP) mobilizer Yusuf Kawooya on Colville Street.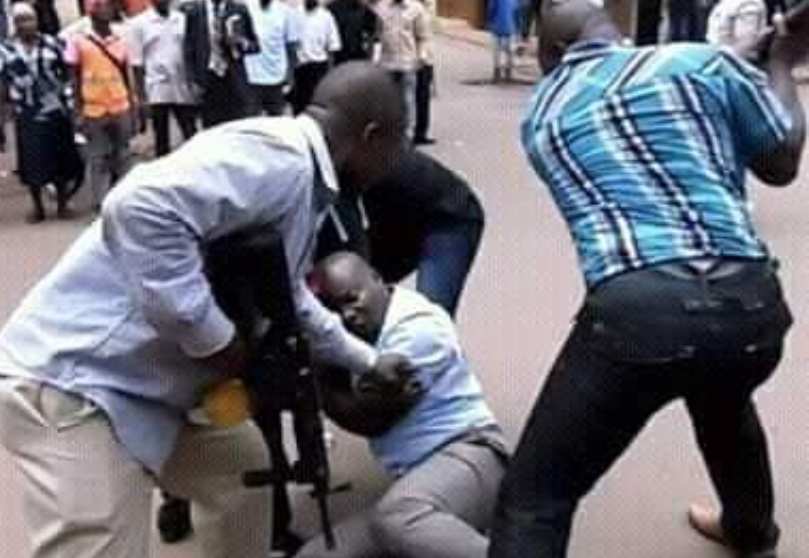 Available reports indicate that the suspects appeared before the disciplinary court on Saturday.
They have since been detained at Makindye Military Barracks.
Some of the men have been identified as Daniel Senkungu, Moses Rwamwenge and Omara.
Read: Video: Man Brutally Arrested By Flying Squad Gunmen Identified; Tormentors Sit At CPS
They were charged with brutal arrest and torture of Kawooya.
They reportedly pleaded guilty to the charges.
UPDF Speaks Out on Arrest and Trial of Yusuf Kawooya Tormentors
Army spokesperson Brig Richard Karemire confirmed the prosecution of the suspects.
"Following the unprofessional conduct of security operatives in executing an arrest of a suspect, that happened on Thursday 18th Oct 2018 along Colville street in Kampala, arrest and prosecution of the offenders was effected vide case number UDC/041/18 Uganda vs Cpl Ssenkungu Daniel and others," confirmed Brig Karemire.
"The culprits have been made to attorn for their mischief."
Karemire also condemned acts of torture.
"This is to regret this unfortunate incident and to assure the public that such conduct is unacceptable and anyone who breaks the law will be held to account and will be punished accordingly."
Comments
comments