Uganda's health ministry has spoken out on reports of an Ebola outbreak in Rukungiri district, days after two patients succumbed to an Ebola-like-disease.
The Tower Post has seen a November 12 communication between two Rukungiri district leaders indicating death of patients with signs similar to those of Ebola.
According to the communication, a patient, identified as Wallen Tumuhereze, had died at Nyakibale Hospital of what would later be confirmed as Congo Cramium Hemorrhagic Fever.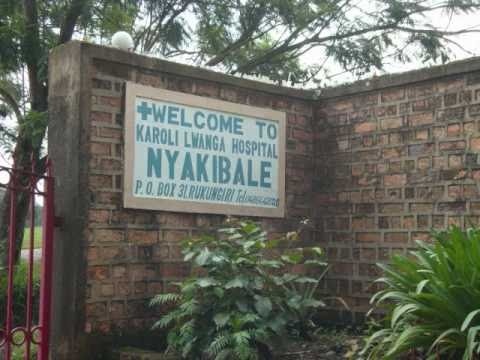 "On 4th November 2018, Nyakibale Hospital received and admitted one Tumuhereze Wallen, aged 23, from Kikura Village, Bwanda Parish, Buhunga Sub County suspected to be Ebola victim on the basis of showing all signs related to the disease which include: bleeding in the nose, ears, vomiting and high temperature," read part of the communication.
"Blood samples were taken from the victim and sent to Kampala Government Laboratory. Results from Kampala confirmed that the patient died of Congo Cramium Hemorrhagic Fever."
By the time the communication had been exchanged, the results from another patient had not been returned.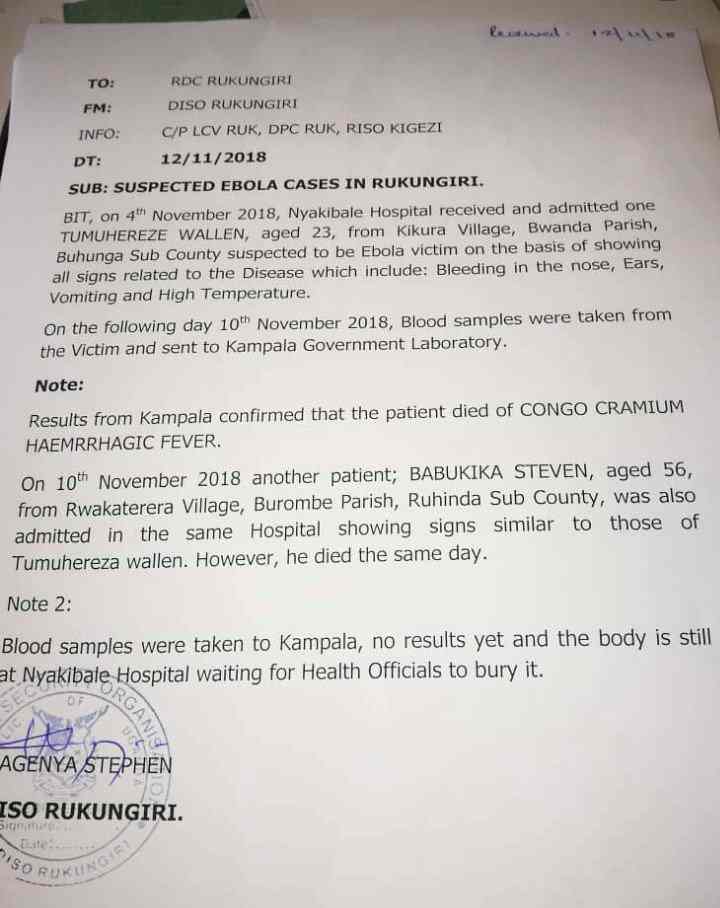 "On 10th November 2018, another patient Babukika Steven, aged 56, from Rwakaterera Village, Burombe Parish, Ruhinda Sub County, was also admitted in the same hospital showing signs similar to those of Tumuhereze Wallen. However, he died the same day," continued the communication.
"Blood samples were taken to Kampala. No results yet and the body is still at Nyakibale Hospital waiting for health officials to bury it."
Health Ministry Speaks Out on Reports of Rukungiri Ebola Outbreak
On Tuesday, junior health minister in charge of health care, Joyce Moriku, presented a statement on the Ebola outbreak in DR Congo and government's preparedness to handle any outbreaks in the country.
"As of today, 13th November, 2018," said minister Moriku.
"There is no confirmed case of Ebola in Uganda."
Moriku added that the ministry of health "remains on highest alert ever and together with partners, efforts have been put in place to not only screen but also manage any identified suspect cases in specially established Ebola Treatment Centres (ETU)".
"Two walk-through temperature scanners have been installed at Entebbe International Airport; one scanner is going to be installed at Bwera in Kasese and at Kisunga border point in Bundibugyo within two weeks," Moriku told parliament.
"Another scanner will be installed in Busia in due course."
For now, she continued, "suspected cases continue to be picked, isolated, treated and blood samples picked for testing by the Uganda Virus Research Institute".
……………………………………………………………………………………………………………..
……………………………………………………………………………………………………………..
Comments
comments