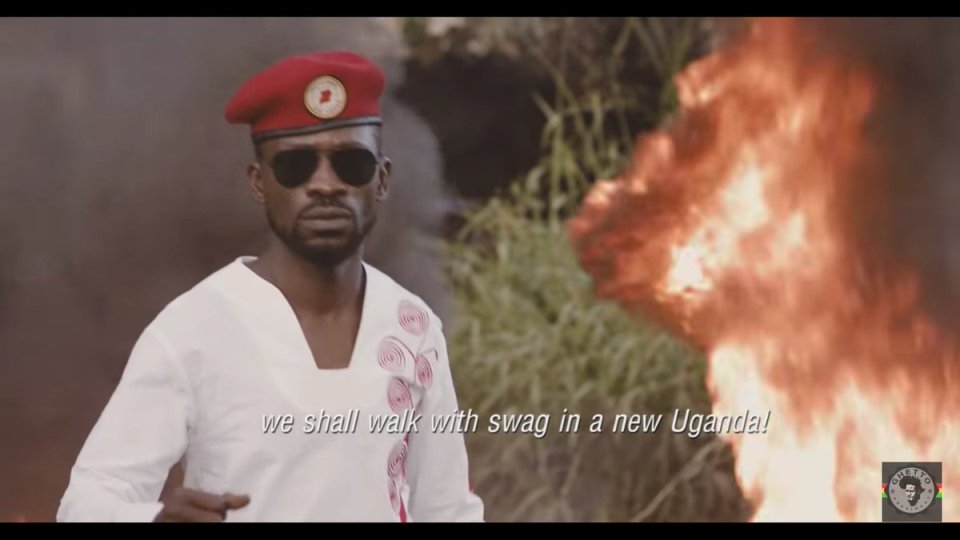 Kyandondo East Member of Parliament and musician  Robert Kyagulanyi aka Bobi Wine has released a brand new music video titled "Tuliyambala Engule".
In the song produced Sir Dan Magic, Bobi Wine teams up with fellow artistes Nubian Li, King Saha, Dr. Hilderman, Irene Namatovu, Irene Ntale and Pastor Wilson Bugembe to preach a message of hope to people of Uganda.
"When the struggle is over , we shall wear the Victor's crown," says the message in the song according to Bobi Wine.
In his verse, Bobi Wine also rallies Ugandans to acquire their National Identity Cards to be able to "Speak for themselves".
A National Identity Card is a requirement for one to be eligible to vote in the presidential elections.
"Although challenging, 2018 has showed us how much potential we have to make our country better when we are determined, united and more committed. At the same time, 2018 has revealed to us that the kind of forces we are up against are very dangerous, reckless and determined to keep us under the yoke of oppression by any means. What gives us hope is that those forces, however fearsome, are not insurmountable. In the end, the people of Uganda shall certainly overcome them," Bobi Wine wrote on Facebook upon releasing the video.
"My wish for the new year is that as Ugandans, we shall be more united in purpose, more committed to the struggle, more courageous to confront the forces of evil, and more hopeful that we shall build a new Uganda which works for all of us," he added.
The video also feature members of Parliament including Paul Mwiru (Jinja East) and Asuman Basalirwa (Bugiri Municipality) among others.
Watch it here:
Comments
comments