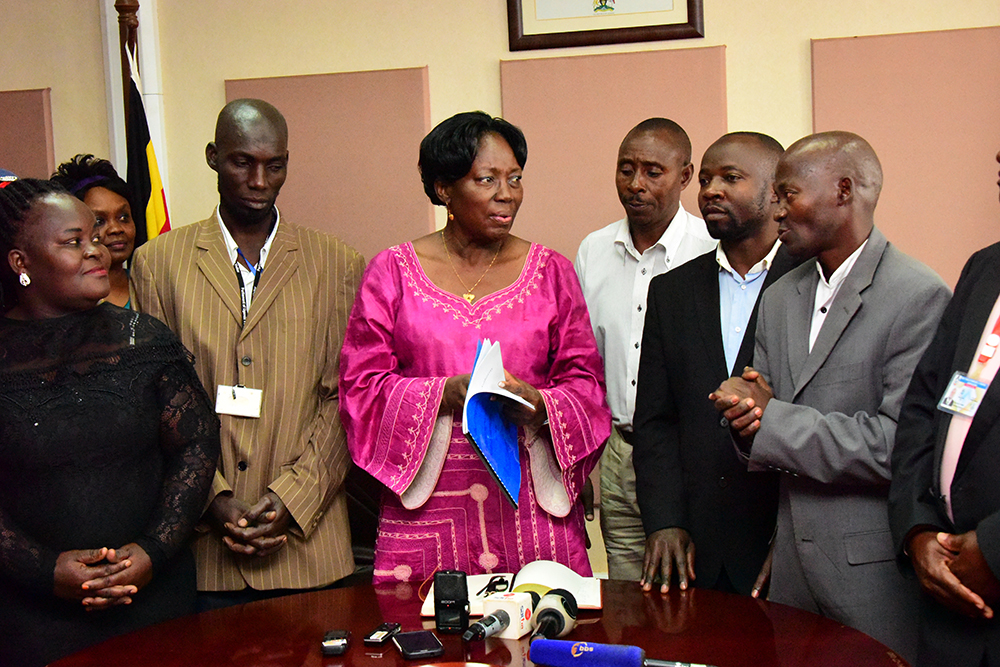 Officials from Kampala Capital City Authority (KCCA) have been put on notice by the Speaker of Parliament, Rebecca Kadaga, over the persistent allegations of harassing vendors.
Kadaga faulted KCCA over claims that it is dragging its feet on the renewal of their licenses, making them vulnerable to brutal arrests and crackdown on their goods.
In a Monday, 10 June 2019 meeting with members of Fuba Tukole Kampala District Vendors and Hawkers Association, Kadaga said it is every Ugandan's constitutional right to work and earn a living.
"In the Constitution, every individual is allowed to work and earn a living in the economy. It is surprising that there is no system to ensure that your licenses are renewed," said Kadaga.
"We shall sort this out; you have the right to work and earn," added Kadaga at the meeting held in her boardroom.
The declaration is a relief to Mr Emmanuel Tebajjukira, the association's Public Relations Officer, who used the meeting to protest the alleged brutality.
"We ask Parliament to set up a committee to ensure that KCCA follows the law in its operations…we have been beaten, harassed, violated and wrongfully arrested," said Tebajjukira.
Tebajjukira is opposed to the recently passed budget to finance KCCA activities in the coming financial year, saying the Authority is dogged by extreme infighting, which is inhibiting service delivery to city residents.
Mr Kaleera Uwineza, who is responsible for Systems Analysis in the association, asked Parliament to place a moratorium on any funds to KCCA, saying together with the Police, they have meted violence and made life difficult for the vendors.
They invited Kadaga to make a field visit to their areas of work, which they said will give her the opportunity to appreciate their plight.
Since the advent of KCCA, confrontations between law enforcement officers and vendors have characterised much of the city's ugly scenes, resulting into loss of life some times.
This conflict has equally soured relations between KCCA technocrats and politicians, whose climax was the resignation of pioneer KCCA Executive Director Jennifer Musisi.
In a lengthy resignation letter, Musisi, whose work earned her praise and loath, decried lack of political support and constant cat-fights.
Meeting teachers recently, President Yoweri Museveni criticised Ms Musisi and KCCA staff for drawing huge salaries yet, he said, they had failed on the job of cleaning up the city.