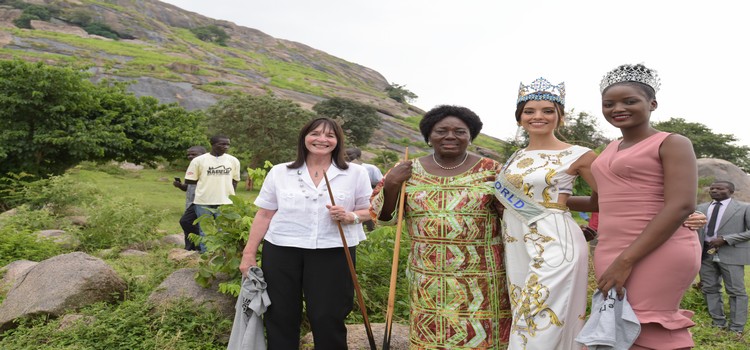 The Speaker of Parliament, Rebecca Kadaga, has taken Miss World, Vanessa Ponce de Leon, on a tour of Busoga in a bid to boost the area's tourism.
In the company of Miss World Africa, also Uganda's reigning beauty queen, Quinn Abenakyo, Kadaga took Ms Ponce to the famous Kigulu Hill climb in Buyende.
The trio thereafter joined Buyende District Woman MP Veronica Kadogo to launch Free Cancer Screening for Women; an event organized by the Indian Women Association.
Ms Abenakyo, who is running a campaign to keep girls in school, said it is sad to see girls not completing their studies. She asked local leaders to step up efforts in keeping the youngsters learning.
Abenakyo said sanitary pads, the lack of which has driven many girls out of school, should be made permanently available to girls, especially through teaching them how to make reusable sanitary towels.
"This is very sad…a girl should not drop out of school because of sanitary pads; we need to ensure the pads are distributed to them, but the lasting solution is in teaching them how to make them ," said Abenakyo.
Speaker Kadaga thanked Ms Ponce for visiting Uganda, asking the beauty queen to tell the story of Uganda's beauty in her circles.
Kadaga urged locals to do all it takes to keep girls in school, saying the difficult times are even crueler to uneducated women.
"We want children to remain in school…we need these young girls to have a future as well; all parents have a duty to ensure the girl-child gets an education," she said.
Earlier, Ms Suman Venkatesh, the Indian Women Association's Chairperson, hailed Speaker Kadaga for her efforts in uplifting the girl-child.
Ms Venkatesh said the medical camp is a beginning of even more offers to the locals.
"This medical camp is only the beginning and the Association is ready to assist all women found to be suffering from cancer; we will cater for their transport to Kampala and also bear the full costs of their treatment," she said.
Commonwealth meet
Ms Ponce's visit is understood to be the beginning of several steps that government will be taking to market Uganda ahead of the Commonwealth Parliamentary Conference (CPC) to be held in Kampala in September 2019.
The host, Speaker Kadaga, who is also the Commonwealth Parliamentary Association President designate, is keen on heightening Uganda's visibility ahead of the conference.