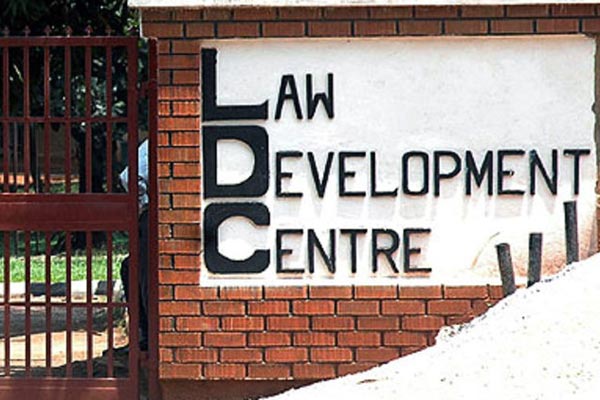 The Board of Examiners Law Development Centre (LDC) at its meeting held on 30 August, 2019 considered applicants for Admissions to the Post Graduate Bar Course AY 2019/20.
The following applicants Completed their Bachelor of Laws (LLB) in 2019 from a Ugandan university accredited by the Law Council.
Completed their Bachelor of Laws (LLB) or other recognized degree in 2019 from a foreign university or academic institution approved by the Law Council or passed LDC Pre-Entry Examinations in previous years but had not joined LDC for the Bar Course.
Applied to repeat the entire Bar Course or aplied to repeat subject(s) on the Bar Course have been admitted to the Bar Course 2019/2020 Academic Year, Kampala Campus.
Applicants should collect their admission letters from the office of the Academic Registrar, Kampala Campus, from 10:00am Monday 2nd September 2019.
ADMISSION LIST – KAMPALA CAMPUS
1. Abbo Brenda
2. Abigaba Denis
3. Abigaba Innocent
4. Acan Ritah Charity
5. Adong Daisy Prudence
6. Adongo Josephine
7. Aeko Fiona Lilian
8. Agaba Emmy
9. Agaba Henry
10. Agaba Isaac
11. Agitta Beth
12. Aguti Immaculate Dila
13. Ahebwa Faith
14. Aije Geoffrey
15. Aine Moses
16. Aine Theopy
17. Aineomugisha Erica
18. Ainomugisha Ruth
19. Akampa Vicky Bright
20. Akankunda Bridget
21. Akankwasa Brian
22. Akankwatsa Lynette
23. Akazahare Naboth
24. Akena Junior
25. Akena Patrick Potika
26. Akitwi Maureen
27. Akitwi Vanessa
28. Akongo Rachel
29. Akoragye Isaiah
30. Akunyo Winnie
31. Akware Irene
32. Akwii Edith Patience
33. Alinda Partra
34. Alupo Elizabeth
35. Alupo Katia Olaro
36. Amenya Steven
37. Among Dora Priscilla
38. Amumpaire Della
39. Angoye Anna Christine
40. Ankunda Immaculate
41. Anyap Caroline
42. Arem Beth
43. Ariho Emmanuel
44. Ariiho Ian
45. Arinaitwe Rita Edna
46. Arinda Ahabwe
47. Arinda Lillian
48. Aruho Issabellah
49. Aryampwere Shibah
50. Aryee Edgar
51. Aseera Gloria Mugonzebwa
52. Asiimwe Crispus
53. Asiimwe Daudi Mwesigwa
54. Asiimwe Ritah
55. Asiingire Talent Moses
56. Asiingwire Joan
57. Ategeka Hillary
58. Atenga Deborah
59. Atuhaire Agather
60. Atuhaire Joan Mutabazi
61. Atuhairwe Joan Harriet
62. Atujune Dragan
63. Atukunda Cloepatra
64. Atukunda Daniel
65. Atukwatse Stephen
66. Aturinda Caroline
67. Atwebembire Dorothy
68. Auma Patricia
69. Awekonimungu Conslate
70. Awuye Hamisi
71. Ayebare Glorious
72. Ayebare Racheal
73. Ayebazibwe Edigar
74. Ayesigye Ritah
75. Ayikoru Judith
76. Baaya Emmanuel
77. Baingana Omega
78. Bakawonga Muzafaru Twaha
79. Bakyazi Pauline Evelyne
80. Balyebuga Kelvin
81. Bamulanzeki Nicholas
82. Bamulozi Priscilla
83. Bantebya Samuel
84. Barigye Raymond
85. Barungi Francis
86. Basemera Vasta Lillian
87. Basoga David
88. Basooma Sharon
89. Bbosa Michael
90. Beinomugisha Alexander
91. Bigabwa Robin Joy
92. Biira Moreen Confidence
93. Bikaaku Davis
94. Birungi Penina
95. Biryeri Amina
96. Bisoro Andrew
97. Bizina Buyela Diana
98. Bukenya Tonny
99. Bukirwa Racheal Allen
100. Bukirwa Rahom Maria
101. Busulwa John
102. Busulwa Priscilla Nakawuma
103. Buteera Abubakar Jumah
104. Buyambi Stella
105. Buyinza Joshua Mayanja
106. Bwambale Edison
107. Bwogi Patra Leoney
108. Byakagaba Moses
109. Byamugisha Dieborah
110. Byarugaba Odettah
111. Byengonzi Christopher
112. Byonabye Perepetwa
113. Chematai Mujadila
114. Ddamba Hakhim Buule
115. Ddembe David
116. Dhikusooka Cyprian
117. Ecoku Kenneth
118. Efumbi Musa
119. Egangu Shadrach
120. Emesu Morris
121. Emojong John
122. Erechu Adrian
123. Esomu Simon Peter
124. Gidongo Martin
125. Gift Luate Emmanuel
126. Gulam Hussein Dawood
127. Hanifah Zam
128. Hasahya Festo
129. Hashara Caroline
130. Ibingira Courage Justine
131. Ibrahim Abdul Majid
132. Ikilai Jimmy
133. Ipara David
134. Isabirye Richard
135. Isanga Hafsa Swabra
136. James Bond Micheal Dennis
137. Jooga Ivan
138. Juol Nhomngek Daniel
139. Kabaale Derrick
140. Kabagenyi Lisandra
141. Kabagweri Zaina
142. Kabuye Edward
143. Kaddu Suubi Jeffrey
144. Kafuko Filda
145. Kagoya Nampala Zahara
146. Kahinju Irene
147. Kahuma Terry Isaac
148. Kakayi Doreen
149. Kakuba Raymond Jedidiah
150. Kaleeba Aaron Joel
151. Kalule Samuel
152. Kamahoro Catherine
153. Kamakune Elizabeth
154. Kamba Cassim Ali
155. Kamugisha Arnolgd Denzel
156. Kamugisha Muhinda Simon
157. Kamusiime Evelyne Aguti
158. Kamwesiga Fredrick
159. Kanagwa Grace
160. Kansiime Drare Bireije
161. Kansiime Mukama Taremwa
162. Kanyunyuzi Jennifer
163. Kasalirwe Brian
164. Kasibante David
165. Kasirye Carlon Douglas
166. Kasirye Denis
167. Kassim Ali
168. Kasudha Paul
169. Katende Godfrey
170. Kato Ndyomukama Nicholas
171. Kato Roman Peter
172. Kato Wilson
173. Katto Romeo
174. Katushabe Loyce Donah
175. Katuuma Luwuta Enock
176. Kavuma Derick
177. Kawuma Mahad
178. Kayanja Denis
179. Kaye Anwar
180. Kayondo Umaru Jumah
181. Kayongo Christopher
182. Kazibwe Godfrey
183. Kenyi Emmanuel Moses
184. Keshubi Alice Munyaneza
185. Khayiyi Joy Janet
186. Kiconco Jovas
187. Kiconco Mercy
188. Kiganda Ismail
189. Kiggundu Augustine
190. Kigoye Yassin
191. Kigozi Edmund Brania
192. Kiiza Ephraim
193. Kimbowa Francis Assisi
194. Kimbugwe Conrad Jeremy
195. Kisa Claire
196. Kisaale William Nicholas
197. Kisaarwot Bethel
198. Kisakye Patrick Armstrong
199. Kisolo Healvy Margaret
200. Kitamirike Sadiki
201. Kitandwe Isaac
202. Kiyemba Grace Emmy
203. Kizito Fahad
204. Kobusingye Phionah
205. Kobusingye Ruth
206. Komugisha Sandrah
207. Komuhendo Prime
208. Kugonya Christopher Elliot
209. Kule Ambrose Craig
210. Kule John Stephen
211. Kulia Angela Lucy Izama
212. Kusiima Juliet
213. Kutekereza Lauryn
214. Kwikiriza Caleb
215. Kwiringira Martin
216. Kyambadde Andrew Mukasa
217. Kyambadde Raymond
218. Kyampiire Lydia Solina
219. Kyarisiima Annet
220. Kyeyune Innocent
221. Kyohairwe Ruth
222. Kyomukama Brian
223. Latigi Lamaro V. Fiona
224. Lawinta Promise
225. Letiru Tracy Vannesa
226. Lubogo Emmanuel
227. Lubwama Tendo
228. Lukoye Prudence Muyama
229. Lule Francis Xavier
230. Lumala Steven S
231. Luswata Antony
232. Lutaaya Meddie
233. Luyimbazi David
234. Lwanga Emmanuel Oganga
235. Lwensisi Joanita
236. Madibo Julius Nangai
237. Magina Isabella Vivian
238. Mahulo David
239. Mahuro Gloria
240. Manzi James Karugaba
241. Maraka Keith
242. Marunga Christine Atwooki
243. Masika Peninah
244. Masudi Hajji
245. Masunge Zamin
246. Matanzimana Peter Kasse
247. Matovu Daniel
248. Matovu Dick Paul
249. Matovu Job
250. Mawudhe Salim
251. Mbabazi Ruth
252. Mbabazi Winnie
253. Mbonye Gilbert
254. Mirembe Isaac
255. Mirembe Pearl Leticia
256. Mohamed Elias Ahmed
257. Mpuuga Mathias
258. Mucunguzi Joel Roy
259. Mudong Maureen
260. Mugabi George Turyamureeba
261. Mugambe Abubaker
262. Mugambwa Yusufu
263. Muganga Lukman
264. Mugarama Andrew
265. Mugarura Edgar Emmanuel
266. Mugisa Patricia
267. Mugisa Patrick
268. Mugisa Sylvia
269. Mugisha Nuwagaba Buhiire
270. Mugisha Peter
271. Mugume Hassan Kwatampola
272. Muhereza Jeroma
273. Muhereza Robert
274. Muhindo Morgan
275. Muhumuza Grace
276. Muhumuza Ivy Patricia
277. Muhumuza Phillip
278. Mukasa Shakilah Zainabbu
279. Mukasa Siraje
280. Mukasa Umar
281. Mukisa Brian Christopher
282. Mukisa Israel
283. Mukose Akiram
284. Mulinde Keneth
285. Mulindwa Evelyn
286. Mulingoki Benjamin
287. Mulumbi Derrick
288. Mumbere Rogers
289. Munanura Donald
290. Muriisa Fred
291. Murungi Joaline
292. Murungi Patrick
293. Musema Faith
294. Musema Miragi
295. Mushabe Daphine
296. Musiime Alex Martin
297. Musiimenta Sanctas
298. Musinguzi Lodrick Kamu Kama
299. Musoke Lasto
300. Mutabingwa Clinton
301. Mutaizibwa Emmanuel
302. Mutalya Brian
303. Mutambo Mark
304. Mutebi Ronald
305. Mutesiima Said Bwisho
306. Mutoro Robinah
307. Muwesa Godfrey
308. Muwonge Muhammad
309. Muyambi Kennedy
310. Muyonga Patience Namasopo
311. Muyunga Ismael
312. Mwajuma Sanyu
313. Mwase Allan
314. Mwebaza Suzan Faridah
315. Mwesiga Alex
316. Mwigo John Banobere
317. Mwije Yosia
318. Mwijukya Daniel
319. Nabagesera Joanita Kirabo
320. Nabaggala Hannat
321. Nabayunga Victoria
322. Nabiryo Kanabe Doreen
323. Nabukeera Elizabeth Hope
324. Nabukeera Lydia Sserugga
325. Nagawa Melissa
326. Nahwera Reachel
327. Naibinga Batabaire Ritah
328. Nakabugo Agnes
329. Nakachwa Marjorine
330. Nakagga Jackline
331. Nakalule Rhonah Phionah
332. Nakamanya Harriet
333. Nakaseeta Proscovia
334. Nakato Mercy
335. Nakato Salima
336. Nakawungu Immaculate
337. Nakaye Catherine
338. Nakayenze Phiona Hilda
339. Nakayenze Regina
340. Nakibira Brenda
341. Nakibuuka Catherine
342. Nakibuuka Zulaika
343. Nakigobe Fiona Kusasira
344. Nakiibi Muhammad
345. Nakimbugwe Saidat
346. Nakisige Ritah
347. Nakitende Sarah Olive
348. Nakitto Annet
349. Nakkazi Stella
350. Nakku Swabura
351. Naloka Mary Mirembe
352. Nalubwama Sharifah
353. Nalukenge Patience Kabuga
354. Nalule Justine Mary
355. Nalule Saidat
356. Naluwembe Mariam
357. Naluwooza Priscilla Helga
358. Naluwuge Sumaya
359. Nalwooga Cissy
360. Namaganda Ruth
361. Namagwe Ketty Catherine
362. Namala Amiah
363. Namale Jovia Christine
364. Namanya Jeremy
365. Namara Collins
366. Namatovu Oliver
367. Namayanja Vivian
368. Nambafu Annet
369. Namono Mary
370. Nampewo Angella
371. Namubiru Deborah Daisy
372. Namuddu Joyce
373. Namukwaya Evita
374. Namulema Jalia
375. Namulinda Sumin
376. Namulondo Evelyn Fiona
377. Namulumba Mercy Winnie
378. Namuwenge Caroline
379. Namuyiga Belinda
380. Namuyomba Georginah
381. Nandawula Ruth
382. Nanfuka Nazipha
383. Nanjala Doreen Ritah
384. Nankunda Edry
385. Nankya Mauricia
386. Nansereko Shamim
387. Nansubuga Shakirah
388. Nansubuga T Brenda
389. Nansumba Diana Rose
390. Nanteza Rabia
391. Nantongo Linda
392. Nantongo Lydia
393. Nanungi Miriam
394. Nasasira Sheeba
395. Nassaazi Mauritia Sharon
396. Nassozi Penlope Shakira
397. Nassuna Hanifah
398. Nassuna Ritah Bangi
399. Natukwatsa Amons Kairukabi
400. Naturinda Glorious
401. Nauma Priscilla Kagoda
402. Ndahagire Namara Clara
403. Ndaruzi Hawa
404. Nekesa Brenda Muyerero
405. Ngyesha Elia
406. Nimwesiga Seth
407. Ninsiima Gloria
408. Niwamanya Timothy Henry
409. Niwarinda Derick Baker
410. Niwenyesiga Yunia
411. Nsamba Suwed
412. Nsereko Samuel
413. Nshemerirwe Precious
414. Nsubuga Tanansi
415. Ntabaazi George Williams
416. Ntale Pamela Catherine
417. Ntende Raymond Frederick
418. Ntensibe Kakooza John Savio
419. Nuwahereza Alex
420. Nuwahereza Cleopatra
421. Nuwaine Racheal
422. Nyabuzaana Lydia Kageye
423. Nyafwono Doreen Patricia
424. Nyakato Arinda Adella
425. Nyeko Ponziano
426. Nyongyera Joseph
427. Obbo Ian Solomon
428. Obote Emmanuel Nyanga
429. Odeke Eric
430. Ogwok Daniel
431. Ojara Kenneth
432. Ojok Anthony
433. Okello Paul
434. Okello Timothy
435. Okenya Douglas
436. Okesho Okunna Stephen
437. Okidi Christopher
438. Okori Joan
439. Okori Paul
440. Okot Eric Okidi
441. Okumu Leonard Nelson
442. Okwakunda Collins
443. Okware Job
444. Okweda Francis
445. Olupot Lillian Tukamureba
446. Omese Donald Paul
447. Omongole Africano
448. Onyango Joseph
449. Opapa Bridget
450. Opielo Andrew
451. Otim Christopher
452. Ovunji Alfred
453. Oyella Loy Odiko
454. Oyitangor Shadrack
455. Ringakech Keddy Jeff
456. Rubangakene Daniel
457. Rubihayo Brian
458. Rukundo Patience
459. Sajjabi Hamiss
460. Sakwa Zainabuh
461. Sekamwa Rogers
462. Sekiziyivu David
463. Seku Jotham Bolle
464. Semanda Fred
465. Semuwemba Simon
466. Senabulya John
467. Sengendo Mulushid Dida
468. Serumaga Robert
469. Seruwooza Serufusa Daniel
470. Serwanga Amanda Lisa
471. Shammah Elizabeth Trint
472. Situma Derrick
473. Sseguya Ismael
474. Ssekanyo Jemimah
475. Ssekiranda Abaasi
476. Ssekyejwe Daniel
477. Sselungyegye Deus Kyomya
478. Ssemambo David Francis
479. Ssemanda Julius
480. Ssemmuli Anthony
481. Ssengendo Sadat Birungi
482. Ssensalire Quraish
483. Ssensalo Wasswa Kasim
484. Sserubiri Arthur
485. Sserulaza Mitcheal Robert
486. Sserwadda Martin
487. Sserwanja Derick
488. Stonranch Mwinda Mutesitesi II
489. Suubi Karen Kaseggu
490. Suuka Uthman Idris
491. Takuwa Zulaika
492. Talenga Patrick
493. Talima Doreen
494. Tamale Timothy
495. Taremwa Samuel
496. Tashobya Vernon
497. Tatwebwa Eriab
498. Tendo Drummond Roy
499. Toka Barbra
500. Tubonaire Agatha
501. Tubwine Owamazima
502. Tumuhimbise Franco
503. Tumuramye Martin
504. Tumusiime Shellinah
505. Tumwebaze Isa
506. Tumwebaze Ivan
507. Tumwesigye Brian
508. Tumwine Enock
509. Turyahikayo Richard
510. Turyamureeba Nalice
511. Turyasingura Gaudius
512. Tushabe Ivan
513. Tuwayenga Brian Andrew
514. Tuyikunde Dan
515. Twesigye Agnes Nyamwiza
516. Twinomujuni Henry
517. Uwizeye Florah
518. Uwizeye Kelly
519. Waira Juma
520. Waiswa Adam
521. Wamboko Peter
522. Wandukwa Sharon Esther
523. Waneloba Timothy Wycliff
524. Wanyenya Martha Maxensia
525. Wanyenze Gloria
526. Wasswa Ronald
527. Watala Roymond Keith
528. Wayi Joseph Emmanuel Wani
529. Wesonga Helgamercy
530. Wobusobozi Mercy
531. Yiga Allan
532. Zainabu Shamila
533. Zalwango Racheal Sanyu
Comments
comments