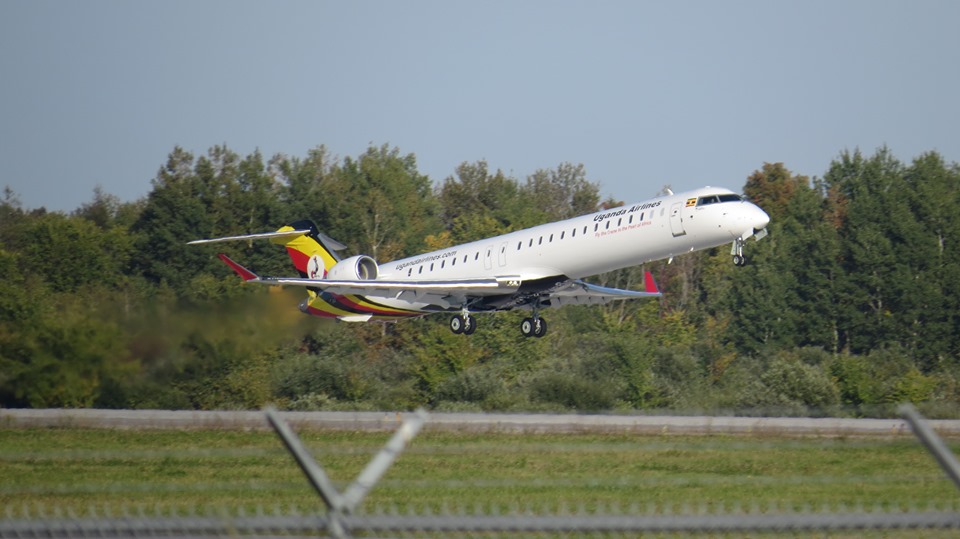 Uganda Airlines has launched their commercial flights to Bujumbura. This follows a series of successful launches of commercial flights to Nairobi, Juba, Mogadishu and Dar es Salaam on 28th, 29th and 30th August, respectively. Bujumbura is now the 5th official destination to which Uganda Airlines flies and is yet to launch commercial flights to Kilimanjaro and Mombasa.
The event was graced by the Minister of Works and Transport, Hon. Monica Azuba Ntege at Entebbe International Airport.
In her speech she said, "For Uganda Airlines to be flying to Burundi is a great milestone in the development of our nation and in building relations with other countries. This will enhance the relationship between Uganda and Burundi.  With this kind of milestone, The East African Community is developing in infrastructure. Uganda Airline will reduce on the foreign expenditure since Ugandans would now be spending their travel money on their own air carrier".
"The Government of Uganda committed to procuring 4 Bombardier CRJ900 planes from their Canadian manufacturers and will be receiving two more Bombardiers next month, while two Airbus planes which will ply international routes are expected early next year, growing the total fleet to 6 aircraft," she added
The CEO, Uganda Airlines, Mr. Cornwell Muleya noted in his speech, "It's been a month since Uganda Airlines commenced commercial operations with direct flights to 4 destinations out of our hub in Entebbe. It has been an exciting experience thus far and we look forward to serving the region with our timely service.
We are glad to be joining our partners like Ethiopian Airways, Kenyan Airways, Rwanda Air and Tanzanian Airways in providing uninterrupted cargo and passenger services."
UR flight 302* took-off from Entebbe International Airport at 4:00pm and touched down at the recently renamed, Melchior Ndadaye International Airport, formerly known as Bujumbura International Airport by 5:15pm, Ugandan time.
The passengers were welcomed in Bujumbura by the Ugandan Ambassador to Burundi, H.E Maj Gen (Rtd) Matayo Kyaligonza, Burundi government officials, Burundi Aviation Officials and the media.
Uganda Airlines will be flying to Bujumbura, 3 times weekly on, Mondays, Wednesdays and Fridays.
The Airline is running a 2 month-long promotional campaign with subsidized fares. To fly from Entebbe to Bujumbura will cost only $295 and only $247 from Bujumbura to Entebbe. This promotion shall run effective from 30th September 2019.
Next month, there will be 2 more CRJs joining our fleet and as such and Uganda Airlines will expand its route network to cover several other destinations in Southern and Central Africa, including DRC, Zanzibar, Asmara, Hargeisa, Lusaka, Harare, Johannesburg, Djibouti, and Addis Ababa.
All travelers can book and purchase their Uganda Airlines tickets at our offices in Kampala, at Victoria University House, Victoria Mall in Entebbe Town and at Entebbe International Airport. Our travellers can also book tickets and check-in online via the Airline Website.
Comments
comments